Coverage that's personalized for you
Your Georgia address isn't just information we file away for correspondence. It also helps shape your coverage.
So when you finish your quote, you can rest assured that:
You're meeting or exceeding the minimum coverage limits in Georgia
The package that's recommended for you reflects any unique needs you have as a Georgia resident
Then, you can take your Georgia-specific package and see what this would cost at other car insurance companies—so all of your options are side by side, right in your Progressive quote.
We're here to help you figure out exactly what insurance you need.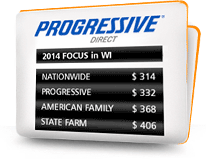 Georgia car insurance rates, side by side included in your quote.†
More Ways to Save
Name Your Price® filters our Georgia car insurance packages based on price—so you see the one that's closest to your budget first.

Get the savings you deserve: Snapshot® personalizes your Progressive rate based on how you drive.

Quote property insurance alongside your Progressive car insurance to get discounts on both policies.
Service Centers in Georgia
A Progressive Service Center is a faster, easier way to get your car repaired if it's damaged. You just drop off your damaged car, pick up your rental and go.
More from Progressive
Moving to Georgia?
Insurance Nearby