Conventional Motor Home — Class A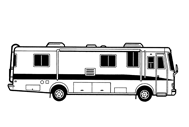 A class A conventional motor home has the following characteristics:
Constructed around a specifically designed motor vehicle frame and chassis with one single living compartment.
Sidewall frame may be wood, aluminum tube or steel.
Exterior may be aluminum, fiberglass sheet or molded fiberglass.
Ranges from 21 to 45 feet.
Typically sleeps up to 10 people.
Most luxurious and expensive type of motor home.
Virtual "home away from home" on wheels, fully loaded and equipped for short trips, lengthy vacations and full-timing.
Models may include washer/dryer, satellite dish, VCR, security system, etc.