RV Insurance Availability
RV Insurance Quote Availability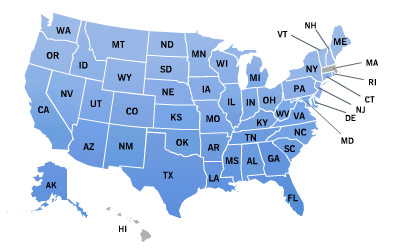 Progressive offers RV insurance quotes to customers across the United States online, by phone, or through agents/brokers.
In all states that sell Progressive RV insurance policies, up to five drivers and up to four vehicles per policy can be insured.
RV insurance is offered in all states, unless your vehicle is principally garaged* in Hawaii or Washington, D.C. RV insurance is not offered in Canada.
Get an RV Insurance Quote
Shopping for RV insurance quotes before you buy can save you a significant amount of money. With so many RV insurance companies around, it's important to choose the right one for you. We provide you with the information you need to make the right decision today, tomorrow, or whenever you're ready - our RV insurance quote options are convenient and easy. And, with a Progressive RV insurance quote, we'll help you every step of the way, too.
RV Insurance — and Much More
Progressive provides RV insurance quotes to customers across the U.S. - and that's not all we offer. You can purchase motorcycle insurance, boat insurance, auto insurance, and more with Progressive. In fact, we're one of the largest auto insurance groups in the country, and we've earned that spot through competitive insurance rates and superior service.
RV insurance quotes and so much more. Now that's Progressive.