Should you buy or build a house?
When you're ready to buy your first home, you have two choices — build from the ground up or purchase an existing house. Both options have advantages and disadvantages. Your choice may depend on your budget, when you need to move, how many decisions you want to make, and more.
4 min to read
The pros and cons of building a house
The advantages of building a house
It's new. When you build a house from new construction, everything – including the roof, the HVAC system, and the appliances – is brand new. Unless the construction is faulty or an unforeseen event damages your home, you likely won't have to make any significant repairs or replace high-priced items for years.
You can customize it. You don't have to live with someone else's choices. You get to choose the floor plan, pick out the kitchen cabinets, and select the tile you want in the bathroom so your home will be exactly the way you want when you move in.
It's more environmentally friendly. The materials builders use today are typically better for the environment and your health than what you may find in older homes. Plus, HVAC systems, appliances, and insulation are more efficient today and may help you save on energy costs.
There's no competition. You won't get into a bidding war with other potential home buyers interested in purchasing the same property when you build a home.
The disadvantages of building a house
You may pay more than you planned. You'll have an idea of the final price tag when you start building, but it's not unusual for additional expenses to pop up during construction. Your dream home could end up costing more than what you budgeted.
There are many decisions to make. Building a new home allows you to customize many of the details. But making all those decisions can be stressful.
You may have to wait. It could take several months from when the construction crew breaks ground until you can move into your new home, especially if you encounter bad weather during construction. Consider the possibility that you may encounter unforeseen delays or incur additional living expenses during this time.
There's no curb appeal. When the builders finish your house, they may put down topsoil and either grass seed or sod. But there may not be any large trees to provide shade, flowers to brighten the yard, or other types of landscaping you might find with an existing house.
Pros and cons of buying an existing house
The advantages buying an existing house
It's usually faster. If you buy an existing house, you don't have to wait months for the builder to complete construction before you can move in.
There are fewer decisions to make. When you buy an existing home, the decisions about what type of granite to install, which appliances to choose from, and whether you want carpet or hardwood floors have already been made.
You might be able to negotiate. When you build a home, there's not much wiggle room on the price. But if you find an existing home you like that's been on the market for a while, you might be able to get the purchase price down.
Learn more about the best time to buy a house and how to buy homeowners insurance for the first time.
Cons of buying an existing house
There's no customization. In most cases, the decisions have already been made when you buy an existing house. You may be able to make changes, but it may take additional time and money.
It won't be new. Chances are, you won't have a brand-new roof, siding, HVAC system, or appliances when you move in. If you know you'll need to make some repairs or upgrades, be sure to factor the added expense into your budget.
There could be competition. If you want to buy a home in a hot real estate market, you may find yourself competing with multiple buyers to get the house you want.
Is building a house cheaper than buying an existing home?
Building a new house will typically cost you more than buying an existing home. According to the U.S. Census Bureau, the median sale price of a new home in the United States was $400,600 in February 2022, while the median sale price of an existing home was $357,300, according to the Federal Reserve of St. Louis.
Just moved in? Get home insurance with Progressive
Online
Compare and customize your coverages and limits when you quote online.
Quote homeowners insurance online
Call a rep
Talk to a licensed representative who can help you quote home insurance.
Call 1-866-749-7436
Through an agent
Connect with a licensed independent agent in your neighborhood.
Find an agent online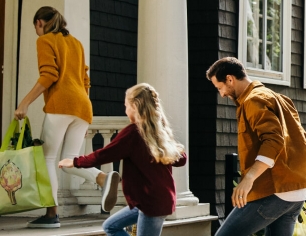 Quote homeowners insurance online or call for advice