Can I get insurance for my liveaboard boat?
You can customize boat insurance policies to meet your specific needs. If you live aboard, whether it's a sailboat or yacht, you'll want to make sure you have the appropriate coverage so you're protected no matter what might happen while on the water. A liveaboard insurance policy can cover damages to your watercraft and protect your home's contents. Insurance costs will vary based on the amount of coverage you need and the type of boat you call home, too.
4 min to read
Do I need houseboat insurance?
While state laws vary and not every state requires boat insurance, marinas often require boats that use their slips to be insured. In addition, lenders almost always require that owners insure their boats as a part of the loan agreement.
Is liveaboard insurance different from houseboat insurance?
Yes. Because a liveaboard boat represents a dwelling and a pleasure craft, you'll need a boat insurance policy that can do double duty. As a liveaboard, you'll spend more time on the boat and are likely to cruise more than a weekender, so liveaboard insurance costs may differ from a houseboat insurance policy.
Do I need liveaboard insurance?
If you're considering moving onto your boat, you should consider insurance for your liveaboard sailboat or yacht as both a boat owner and a homeowner. Talk with your insurer about your limits for personal property coverage. As with homeowners insurance, consider making an inventory of your possessions (possibly with photos), which can help establish what was on board if you have to make a claim. Consider a rider for high-value items to make sure you are insuring them for their full value. You can expect riders to affect your liveaboard boat insurance cost.
You should also consider standard and optional boat insurance coverages, which might be necessary with the more time you spend on the boat. For instance, medical payments coverage can pay medical bills if someone sustains an injury on your boat. That might not be a big concern if you only go out occasionally, but when you live on the boat, you'll use all the craft's amenities more than the average boat owner. Insurance to protect them might be something you want to consider.
Do I need a survey for liveaboard insurance?
You should also consider the value of the boat and any modifications you've made. You can get liveaboard boat insurance without a survey. However, a hull value taken by a surveyor may be a better guide to the value of your boat's structure, especially if you've added equipment or made significant changes or repairs. Older steel hull boats that you have restored can benefit from a boat survey because steel hull houseboat insurance can sometimes be difficult to secure for older boats.
Is it difficult to get liveaboard status?
Most marinas have liveaboards rules, and some don't allow them at all. Often, the marina wants to maintain a certain image and is opposed to members modifying their slip or surroundings (or leaving possessions around the slip as many liveaboards do). In other cases, state or local laws prohibit liveaboards to fight vagrancy. Another common challenge is finding space. The liveaboard life is easier than ever now, thanks to the availability of remote work. Most marinas that accept liveaboards have a limit (such as 10%) on the number of slips that they will allocate to liveaboards. As a result, many marinas have long waiting lists for access to liveaboard slips.
Some insurance companies treat liveaboard boats differently than pleasure craft — the more time you spend on the boat, the greater an insurance risk you represent. Therefore, you will likely have higher rates as a result. However, it's important to note that some insurers, including Progressive, do not offer insurance for liveaboard boats due to the associated risk involved. Be sure that the boat insurer you choose offers policies for liveaboard boats in addition to traditional boat insurance.
Do I need to tell insurer that I'm a liveaboard?
In the boating world, that's called a "sneak-aboard." It's generally easy for the harbormaster to tell what you're doing. In addition, lying on an insurance application or deceiving your insurer is a form of insurance fraud. Besides possible legal ramifications, failing to disclose information (or outright lying) to the insurance company can be grounds to deny a claim if you ever have to make one.
How to get boat insurance
Online
We'll ask easy questions about you and your boat, then you can choose coverages.
Get a boat insurance quote online
Call a rep
You'll speak with a licensed representative who will guide you through everything.
Call 1-866-749-7436
Through an agent
If you want local advice, we'll connect you with a licensed independent agent near you.
Find an agent online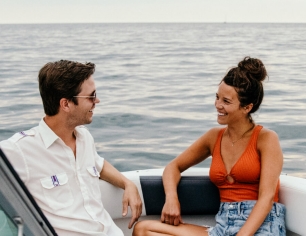 Enjoy life on the water with boat insurance from Progressive