What is a junk motorcycle?
A junk motorcycle usually refers to a totaled bike. Totaled bikes need repairs that would cost more than the bike's value. Some totaled bikes carry salvage titles that allow them to be rebuilt, but others are designated as "parts only." These bikes cannot legally be restored, though you can still harvest functional parts from them or sell them for scrap. "Junk motorcycle" might also refer to salvage bikes and parts-only bikes, so make sure you understand the difference when buying or selling a junk motorcycle.
3 min to read
How to tell if you have a junk motorcycle
If you're unsure whether your bike is a junk motorcycle, try looking up the motorcycle's value or check with your insurance company. Look up the motorcycle's value in an independent valuation guide. Then compare that to the cost of any work the bike needs. Old motorcycles may be considered junk even if they still work. This is especially true if they've been in an accident or need repairs, since their residual value is low.
Check with your insurance company if you've been in an accident. If the insurance company has deemed the bike a "total loss," you can confirm your bike is a junk motorcycle. If you want to know whether a bike is parts-only, ask to see its salvage certificate of title or other salvage documents, which should indicate the motorcycle's status. Double-check the description on the documents against your state's salvage vehicle terminology to be sure what you can legally do with the bike.
Junk motorcycle removal
Junk motorcycles may still drive but have extensive cosmetic damage or need expensive repairs to get them back into a safe or sellable state. If you've got a junk motorcycle and you don't want to (or can't) repair it, you have a few options.
1. Try selling it
If the bike is considered junk but still runs or has useful parts, you may be able to sell it to another motorcyclist in a private party sale. Other bikers might be interested in restoring it or want the parts for a similar bike.
2. Donate it
If your priority is removing your junk motorcycle rather than trying to get some money for it, you may be able to donate the bike to a charity. Like with other vehicle donations, the charity can often help you with paperwork and make the process of junk motorcycle removal simple.
3. Explore state programs
Some states have vehicle recycling programs that accept motorcycles in almost any condition and can even schedule a pick-up or tow if your junk motorcycle doesn't run. Contact your state Department of Motor Vehicles (DMV) to learn about recycling programs. They can also put you in touch with reputable motorcycle junkyards and explain any paperwork that might be required to retire your motorcycle.
4. Take it to a motorcycle junkyard
Motorcycle junkyards, also known as salvage yards, collect old and damaged vehicles. Getting in touch with a local motorcycle junkyard can make it easy to junk a motorcycle without the hassle of creating an ad and meeting with buyers. Learn more about selling your motorcycle to a salvage yard.
If you sell your bike to a motorcycle junkyard, expect to get less than the amount listed in a valuation guide for the same bike in "poor" condition. If the bike doesn't run, some motorcycle junkyards offer pick-up services, though you can expect the cost of the pick-up to reduce the amount they offer you for your scrap motorcycle. The junkyard may also be able to help you with the sales and title transfer paperwork.
5. Scrap it yourself
If you know how to junk a motorcycle yourself, you may be able to sell individual parts to other motorcyclists looking for used components and get more than you'd receive from a motorcycle junkyard for the bike.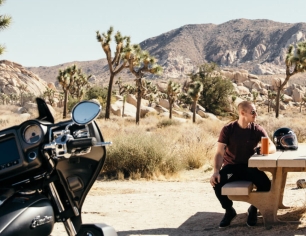 Enjoy life on two wheels with motorcycle insurance from Progressive