It was 2003. Product Analyst Alison had just moved to San Diego, California, casting off her small-town Pennsylvania upbringing and hoping to put her degree in social work to use. She'd just graduated college. She soon found California living to be a little more challenging than she anticipated.
For one thing, if she wanted to stay in the social work field, she needed a higher degree. She was barely scraping by, and her bank account was getting smaller by the day. While updating her Progressive Policy online, she saw that they were looking for new employees. Was it a sign? Yes! She needed a new job!
"So I took the entry test, passed, and moved on to an interview," explains Alison. "Next thing I know, I'm working in Claims. I had a Progressive SUV and was out writing estimates for damage and injuries; getting trained in what seemed like every part of our claims business."
An unexpected career
Fast forward to present time. Alison is now a product and underwriting analyst with Progressive. She analyzes data to glean insights for our Personal Lines for multiple states to help us hit our goal of becoming consumers' number one choice in auto insurance. Building from that initial Claims knowledge, she looks at loss data to help price our products accurately.
So how does a social worker turned claims representative end up working as an analyst in insurance? It really comes down to Progressive's unique approach to development.
"When I applied with Progressive, I was thinking I'd work here until I could get something in my field and the rest as they say is history. I've been here 18 years and have worked in four different states and almost every role in the Claims organization, including claims generalist, estimator, commercial claims rep, casualty claims rep, large loss claims rep, claims leadership, and major case investigator in the Special Investigations Unit (SIU) where I helped protect the company, our brand, and our insureds from organized fraud threats. One of the things I love the most about Progressive is our willingness to support the growth of our employees' skillsets, which ultimately makes for a stronger company and culture."
An eye-opening development opportunity
It was during Alison's time in SIU that she was selected to participate in the Advanced Development Program (ADP). The purpose of the program was to give high-performing claims employees exposure to Progressive career opportunities outside of claims. Through it, she was introduced to and encouraged to explore the company's major business areas. She was also assigned a mentor; a relationship that has helped guide her through some challenging career decisions over the years. Alison describes her experience with the ADP as "super eye-opening."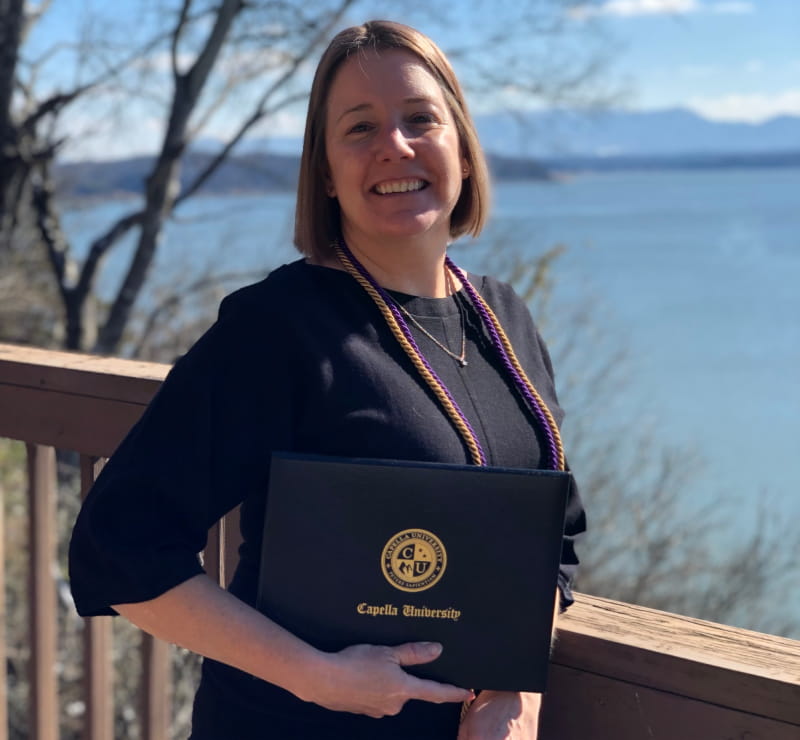 "Prior to ADP, I hadn't considered that my career path could extend beyond Claims. I learned so much—from the course work, but also from the various business leaders who spoke to us. I gained a lot of confidence from the experience. So much so, that I was encouraged to apply for my MBA."
While working towards her MBA, Alison became interested in business strategy. Through her coursework, she came to realize that she excelled at strategy; figuring out different options to solve a problem and planning for different outcomes. She shifted her course focus to strategy and graduated with honors in May 2021.
Reaping the benefit of hard work
Her combined experiences—and the confidence she gained—from Claims, the ADP, and her MBA work opened new doors for Alison. She applied for a role in competitive intelligence. She interviewed well but didn't get the job. Instead, she was told another opportunity had opened and leadership felt she'd be a great fit: the product analyst role. Alison agreed to explore it and threw herself into the interview process. And that's how a social worker turned claims representative ended up working as an analyst in insurance.
"My longevity at Progressive has come from the variety of opportunity here. Growth opportunities, different projects, and new challenges have kept me engaged and super fulfilled. I've worked really hard, and it's been worth it. When I refer someone, I tell them, 'You're going to work hard here, but you're also going to be rewarded for that work.' It's not easy, but I wouldn't do it again any other way. Challenge yourself. Follow your passion and see where it leads you."