Are you considering purchasing an RV to help you find adventure, a change of pace, or create new memories? With so many options, narrowing down the right RV can be an overwhelming process. If you're feeling lost and don't know where to begin, here are a few tips to get you started in choosing the right RV for you.
Narrowing down the type of RV
Before you start worrying about floor plans and amenities, it's important to narrow down the type of RV you want. For example, if you already have a heavy-duty truck, you may consider a fifth wheel or travel trailer.
We originally considered a fifth wheel, but after taking into account the cost to trade in our current vehicle for a truck, we realized we would be better off with a motorhome we could drive. This narrowed down our options to an A-, B-, or C-class motorhome. Since we were looking for an RV closer to 35 feet, we found more options with the A-Class, although I'll admit the idea of driving a C-Class, which is built on a truck chassis, or a B-Class, which is built on a van chassis, seemed less daunting at first.
It's important to visit RV dealerships and trade shows to explore and test drive as many RVs as possible. Make note of what you like and dislike about specific types of RVs or features they have, and keep an open mind. Who knows, you may discover a different type of RV is more practical than you thought.

How often and where do you plan to travel?
Depending on how often you plan to travel and where you'll be doing most of your driving, you may find that either a gas or diesel RV will suit your needs best. Gas RVs are often more affordable and easier to maintain, but diesels are built to last longer, retain their value, get better gas mileage, and have more powerful engines. Diesels generally have larger tank sizes and higher weight capacity, making them more suitable for full-time RVers. With that said, they're also more expensive than a gas RV. Not to mention maintenance will need to be done by a diesel mechanic and can be costly.
During our research we were convinced we needed a diesel RV, especially since we planned to travel through the mountains and heard gas RVs really struggle with inclines. As we continued to research and test drive RVs, we ultimately decided to purchase a pre-owned gas motorhome. This was mostly because it was our first rig and we didn't know how we would like the lifestyle, how long we would RV for, and because we wanted to keep our overall cost down.
After spending over a year on the road, we've driven through the mountains numerous times in our RV with no issues. Sure a diesel could make the trip easier or smoother, but we've never regretted our decision and enjoy full-timing in our gas RV.
Will you be following the warmer weather or spend winter months in colder temperatures? If freezing temps are in your future, you may want to consider an RV with double-pane windows or an arctic package.
Dry camp versus campgrounds
Do you daydream about driving into the wilderness and setting up camp in seclusion? If you plan to camp without hookups (meaning no water, power, or sewer connections), this is often referred to as "dry camping" or "boondocking," and where options like larger tank sizes and solar power can come in handy.
This isn't to say you can't dry camp without solar or with smaller tanks, but chances are you'll be more comfortable and lengthen your stay if you do. You may be able to use your generator and just need to be courteous of "generator hours" or nearby boondocking neighbors. I've heard it can be helpful to wait a year before adding solar because you'll have a better sense of how you live in your RV, and the amount of power you'll use. So don't fret if it's not something you can add right away. And the same goes for larger tanks because you can always purchase portable black and gray waste tanks.
Maybe dry camping isn't for you or isn't something you plan to do often, and in that case you may prefer camping at state, national, or RV parks. Keep in mind that some of these parks may only have partial hookups (meaning only water or only electric), as well as maximum RV length restrictions. Some RV parks and resorts even have restrictions on the age of an RV and won't let anyone stay with an RV older than 10 years.
RV length can also play a role in determining where you're able to camp. Having a 35- or 40-foot RV can be awesome when you're looking for a spacious tiny home on wheels, but can limit where you can drive or stay. And driving through forested terrain to find that perfect spot in the wilderness may be challenging or unsafe in a larger rig.
Some state and national parks have length restrictions or a limited number of larger sites available, meaning you'll want to make reservations extra early, especially if your RV is over 30 feet. It's not a bad idea to research parks you plan to visit to see if they have any restrictions, and if their max length includes a tow vehicle.
At the end of the day, a larger RV still may work best for you and your family, but it's good to know upfront that you may have to compromise staying at a nearby RV park over a state or national park once in a while.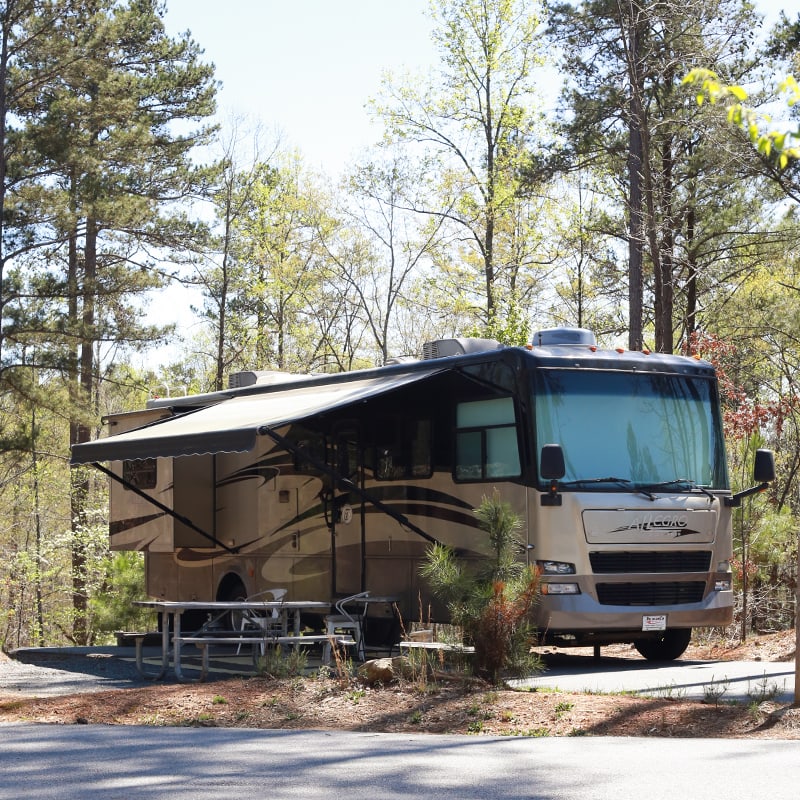 Floor plan and amenities
Another very important aspect of finding the right RV is figuring out the best floor plan for you, and what amenities are on your must-have list. This can include how many slide-outs an RV has. These are essentially an extension of the living space that slide out when you're parked.
Our RV has two slide-outs, one in the living room and another in the bedroom, which practically doubles our interior. It's like magic!
Another important question to ask yourself is whether you want a move-in ready model or something you can customize? We knew from the get-go we would completely remodel whatever rig we purchased, which is another reason we opted to go with a used RV. By the way, if you're considering a used motorhome, be sure to check out these tips first.
Consider your wants and needs, then create a list of must-haves as well as negotiables. If you have kids, you may prefer a floor plan with bunk beds or multiple bathrooms. Maybe you're looking for a washer and dryer, an outdoor kitchen, or even a garage to store your "toys." You can find most RV floor plans online with a quick search or by browsing the manufacturer's website.
We decided having a washer and dryer inside our RV was a must-have and eliminated tons of floor plans for this reason alone. Then we found an RV that crossed everything off our list … except for having a washer and dryer or connections for them. Guess what, we bought it anyway. We figured there are portable options available and my husband promised he would take on the responsibility of laundry. He's kept his word, so no complaints here!
This isn't to say you shouldn't hold out for the "perfect" RV, but it's not a bad idea to revisit your list of must-haves, remain flexible, and see if compromises can be made.
Of course most of us have a budget to stick to, but with so many options and price points available, you're sure to find an RV that will work for you.
It's easy to get swept away in the excitement of buying a new RV and rush the process, but take your time and enjoy it! It's important to consider how you'll use your RV, but don't get so wrapped up in what you think you need, or other people's opinions, that you eliminate an option that could work best for your family.