One of the toughest struggles that everyone faces during a remodel, whether it's a small addition or a whole-house renovation, is staying true to their budget. This is primarily caused by not setting realistic cost margins upfront or adding pricey extras along the way. Here's a quick guide to help you stay practical about balancing your remodeling goals with your budget.
Understand your reasons for remodeling. You may be clear on what exactly you want to do to your house but also delve into the question of why. Are you making this change to boost your resale value and sell your house? If so, you may gear your changes toward current design trends. On the flip side, are you making more space for a growing family? Then, you'll likely adhere to your personal preferences and lifestyle. Your priorities and focus throughout the remodel will be drastically different based on your answer.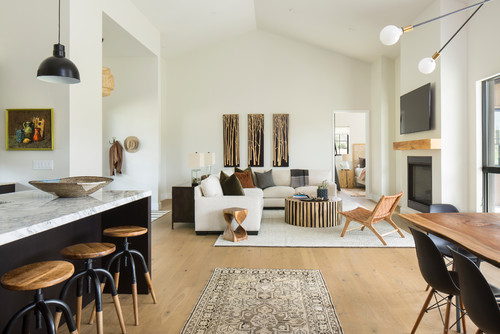 Choose your pro wisely. Check any designer, contractor or architect's references and stay stubborn about your baseline budget. A scammy professional that abandons your project halfway through can be hard to recover from, so be sure they're reliable before hiring them. Many clients also fall victim to the "they know best" line of thinking and allow their pro to draft unrealistic plans. It's imperative to clearly communicate your budget so that the two of you can be on the same page from the get-go. Once you start demolishing walls and pulling out fixtures, it may be too late or difficult to revisit the budget discussion.
Know what you're paying for. Not only will you be paying for the actual work itself to be done, you also have to account for permits, moving and cleaning costs as well as impact fees. The initial price quoted to you by contractors is a general ballpark of how much your plans and ideas will cost. You may receive multiple estimates and bids from different professionals which can help you decide who to eventually hire. Then, you and your pro can undergo value engineering to consider alternatives to lower the cost if needed.
Break down the contract. Construction contracts will typically be divided into hard costs for materials and fixtures and soft costs for consulting fees. Oftentimes they'll also include allowances, which are estimates of certain projects that haven't been selected yet, such as fixtures, lighting and decor. This is also where you'll have the most flexibility to splurge or save. As-built drawings are also helpful references in eliminating surprises since they show exactly what changes were made throughout the project including the dimensions and location of all components.
Make a thorough plan. Working out all the details before breaking ground may seem like a no-brainer, but it's often overlooked or not fully executed. Lay out all of your ideas and work with an expert to decide what is reasonable and practical. It's extremely important that you have an exhaustive wishlist to begin with so that you aren't forgetting anything. Acknowledge and account for your weaknesses too in regards to when and where you'll be tempted to splurge on extras along the way. Having all of this written out will also help you avoid feeling pressured into any last-minute costly decisions during the remodeling process.
Avoid change orders. You might think "While we're at it, we might as well do this too …" but these sudden change orders can add up quickly. If something really comes up along the way, save it for your next project when you'll have a new budget to work with. For example, you might think that moving a wall light sounds fairly simple, but it requires a drywall contractor and painter to patch up the old hole on top of electrical work. Surface changes, like changing lightbulbs or hardware, are OK, while structural changes, like moving walls or plumbing, are expensive culprits.
Set aside your build-to budget. Once you've nailed down your budget, dedicate roughly 20 percent of it to unknowns that will occur along the way. Commonly called the "build-to budget" in the field, this 20 percent is an integral part of the process that needs to be set aside and not spent on any extras or splurges, but rather to cover any delays or issues like discovering mold behind a wall or an unstable foundation beneath floorboards.
DIY, reuse, sell and save. If you find yourself strapped for cash during the remodeling process, look for other places you can save. Reuse old appliances and fixtures instead of buying new if they're still in good shape. If they don't fit in well with your remodeled room or home, try selling them for some return on your investment. Also consider which projects you can tackle on your own or with family or friends instead of hiring a pro, such as painting a wall, fixing a leaky faucet or another small modification.
Related Links:
How to Find, Hire and Work With the Right Remodeler
Bookmark These Master Bedroom Ideas for Inspiration