Good drivers finally get the savings they deserve as Progressive unveils Snapshot discount countrywide
Drivers now empowered to lower their car insurance rates while they drive
MAYFIELD VILLAGE, Ohio — March 14, 2011 — Progressive (NYSE: PGR) today began national advertising for its SnapshotSM Discount, an industry-leading Pay As You Drive® program that offers drivers the chance to lower their car insurance rates by as much as 30 percent based on real-time analysis of their driving habits.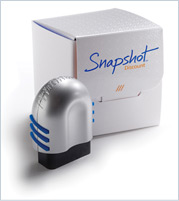 This cool Snapshot gadget from Progressive won't cost you a cent, but it could save you up to 30 percent on your car insurance.
Snapshot brings together leading-edge technology and Progressive's passion for saving drivers money, creating a one-of-a-kind program that can offer drivers substantial savings on their car insurance. Over the past few years that Progressive has been testing and refining its Pay As You Drive program, also known generically as usage-based insurance, more than a quarter of a million drivers have participated. This, in combination with analysis of more than 2 billion miles driven, has led the company to where it is today — poised to make Snapshot available to drivers countrywide. Drivers currently enrolled in the optional program are already saving an average of $150 per year.
"Do you think you're a better driver than your car insurance company gives you credit for?" asked Progressive President and CEO Glenn Renwick. "Today I'm issuing a challenge to drivers across the country. Get a quote from Progressive and send us a 'snapshot' of your driving habits, and see what happens. At worst your rate stays the same. But you could end up saving up to 30 percent on your car insurance. This is the biggest discount Progressive has ever offered."
Renwick said with Snapshot, drivers finally have the chance to pay for car insurance based on how they drive, not how others drive. People who drive less, in safer ways and during safer times of day are most likely to get a discount.
Powering this program is the Snapshot device itself, which plugs into the onboard diagnostic port (OBD-II) found near the steering wheel of most cars built after 1996. The device's sleek design houses the latest advances in telematics and mobile technology, enabling the customer to automatically and wirelessly share their driving patterns with Progressive.
After 30 days, the customer can log in to their policy to see how much of an initial discount they're earning and what changes they can make to their driving habits to save even more. At the end of the six month policy term, the customer returns the device to Progressive, and Progressive calculates the final discount. The initial discount is applied to the first six-month policy term and the final discount applies to policy terms going forward.
The Snapshot discount is not based on location or speed. The device does not have GPS technology, so Progressive does not know where the car is and does not take into account how fast the car is being driven.
Snapshot represents the next generation of usage-based insurance, which creates a personalized insurance rate based on a customer's actual driving habits. Progressive has been awarded a series of patents on the methods and systems used in Snapshot, creating a program that's unmatched in its advanced technology, security, and ability to optimize discounts for customers.
In addition to saving drivers money, usage-based insurance programs like Snapshot can also lead to safer roadways and a cleaner environment. The changes drivers are generally encouraged to make to maximize their savings, such as driving defensively and driving fewer miles, also have a positive impact on road safety and result in fewer carbon emissions.
"Snapshot is about much more than just really cool and fun-to-use technology — it's a whole new way to think about car insurance," said Renwick. "We believe Snapshot is a game changer — representing the future of auto insurance as our mobile and interconnected world gives us the opportunity to offer immediate and substantial savings to our customers."
Snapshot is yet another Progressive "first," reflecting the company's longstanding culture of innovation and superior customer service. Among its long list of industry breakthroughs, Progressive was the first to offer claims service at the scene of an accident, the first to offer online auto insurance purchasing, and the first to offer Name Your Price®, an innovative, easy-to-use online tool that helps customers choose the coverage package they want at a price that fits their budget.
With Snapshot now in 32 states and available to three out of four car insurance consumers countrywide, Progressive today began advertising the program nationally. Snapshot is now offered in Alabama, Arizona, Colorado, Connecticut, Florida, Georgia, Iowa, Kansas, Kentucky, Louisiana, Maine, Maryland, Michigan, Montana, Minnesota, Missouri, Nebraska, Nevada, New Hampshire, New Jersey, New York, Ohio, Oklahoma, Oregon, Rhode Island, South Carolina, South Dakota, Texas, Utah, Vermont, Virginia and Wisconsin. More states are being added throughout the year.
To learn more about Snapshot and sign up, visit http://www.progressive.com/snapshot/.
About Progressive
The Progressive Group of Insurance Companies makes it easy to understand, buy and use auto insurance. Progressive offers choices so consumers can engage whenever, wherever and however it's most convenient for them — online at progressive.com, by phone at 1-800-PROGRESSIVE, or in-person with a local agent.
Progressive offers insurance for personal and commercial autos, motorcycles, boats, recreational vehicles and homes. It's the fourth largest auto insurer in the country, the largest seller of motorcycle insurance and a leader in commercial auto insurance. Progressive also offers car insurance online in Australia at http://www.progressiveonline.com.au.
Founded in 1937, Progressive continues its long history of challenging the insurance industry with shopping tools and services that save customers time and money, like Name Your Price®, the Snapshot DiscountSM, and a concierge level of claims service.
The Common Shares of The Progressive Corporation, the Mayfield Village, Ohio-based holding company, are publicly traded at NYSE:PGR.
###