When is it a good time to buy a house?
The best time to buy a house depends on what you're looking for. You'll find the best inventory of houses in spring. If you're after a bargain, consider searching for a house in late autumn or winter. Inventory is lower, but you have a higher likelihood of getting a house below the asking price. Late summer and early fall may give you the best of both worlds with a combination of good selection with less competition and slightly lower prices.
4 min to read
Is there a best month to buy a house?
If you're looking to choose from a large selection of homes, April may be the best month to buy a home as many sellers add new listings at the start of spring. But it's also a competitive time to buy — if you find your dream house, get an offer in early to avoid a bidding war.
September is another good month to buy a house. Inventory levels are still high, and some sellers start to lower their asking price in the lead-up to fall and winter. Competition levels may also be lower than spring and summer, especially if you're searching in an area that's popular among families with kids.
If getting the lowest price possible is your main priority, consider searching for a home in November or December. There won't be as many houses to choose from compared to the spring and summer months, but you'll face less competition and a higher likelihood of purchasing a home below the asking price.
Learn more about how to prepare to buy a home and first-time home buyer mistakes to avoid.
What's the best season to buy a house?
Each season has its advantages and disadvantages — it all depends on what your main goal is when it comes to your real estate search. Spring is generally viewed as the best time of the year to buy a house if you want to choose from a large inventory. Homes also tend to present better in the warmer months – plants are in bloom, and lawns are green, so this is a popular time for sellers to put their houses on the market. You'll see plenty of new listings throughout the springtime. Spring is also the busiest time to search for a home, so be prepared for some friendly competition and the potential for a bidding war.
Late summer to early fall is also considered one of the best times of the year to buy a house because the competition levels cool down following the busy spring and early summer months. Fewer families shop for a house around this time of year as well — they prefer to close on a house earlier to avoid disrupting the school year.
However, if you're looking for a bargain, you're likely to find the lowest prices in the winter. There are fewer buyers over the winter months, so many sellers take their homes off the market for the season with the plan to start fresh in the spring. Sellers who keep their listing up through winter are often looking to sell quickly, increasing your chance of purchasing a house below the asking price. Note that the seasonal differences in the real estate market may vary depending on where you live.
Should I wait until it's a buyer's market to buy a home?
You'll always find the best selection of homes to choose from and the lowest prices when house hunting in a buyer's market rather than a seller's market. During a buyer's market, there are more listings than people looking to buy. This means less competition and a higher likelihood that you'll have an offer accepted that's below the asking price. Of course, you can't always predict when the market will flip between a buyer's or seller's market, but you can time your house hunt around the time of year whether you're after the best selection or the lowest prices.
Is it a good time for me to buy a house?
When you're looking to purchase a home, especially if it's your first one, it's important to be ready. Here are a few questions to ask yourself before buying a home:
Are you planning to stay in the same town for the next several years?
Do you see yourself switching jobs anytime soon? (which may come with a change in salary)
Are you planning to expand your family?
If you picture your life staying fairly stable over the next few years and you have a good amount in savings, you may be ready to take the leap to buy a house.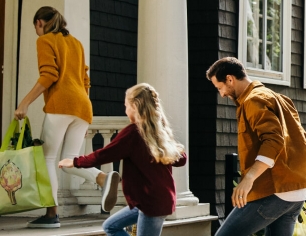 Quote homeowners insurance online or call for advice