How much does it cost to winterize a home?
There isn't a universal answer to how much it costs to winterize a home. It depends on several factors, including your home's location, size, and condition, as well as your home maintenance habits and where you are in the life cycle of major appliances. If you're concerned about doing the work yourself or unsure what needs to be done, consider investing in a professional evaluation.
3 min to read
Benefits of home winterization
Winterizing your home may result in lower heating bills and a more comfortable environment. Winterizing your home can also help avoid costly problems like burst pipes if temperatures dip too low. Some home winterization tasks are appropriate for DIYers, but not everyone has the time to tackle them. Learn more about how to winterize your home to prevent pipes from freezing.
Factors that affect the cost of home winterization services
If you're paying someone to assess your home and do the work for you, a comprehensive winterizing home renovation can cost thousands. The cost to winterize a home often depends on the house itself and its location. Other considerations include your home maintenance habits and the age and condition of your appliances.
Size and design
If you have a large home, there's likely a lot of pipes to check and insulate. Other tasks have more to do with the home's design. Window and door insulation has a "per unit" cost. If you have several doors and windows, the cost may add up quickly, even if your house is small.
Location
The climate around your house makes a big difference in your home's winterization needs, but not always in the way you imagine. While northern states more frequently reach the temperatures necessary to freeze pipes, the houses are typically built with more insulation. In the south where pipe insulation may not be necessary, a less severe temperature drop can still wreak havoc. Find out what kinds of winter damage are most common in your area to get a sense of what it will cost to winterize your home.
Your habits
Consider whether you are interested in seasonal fixes or long-term home improvements. Winterizing your home's windows with window plastic costs less than getting double-pane windows. But window replacement will help keep you cool in summer too — and you won't have to keep applying window plastic year after year.
Systems maintenance
Your furnace and HVAC systems are integral to winterizing your home. Most years you won't need anything more than a filter change for the furnace, which is relatively inexpensive. However, if your furnace hasn't been performing well, you may need more expensive services like duct cleaning or a complete check-up. Learn how home insurance may cover furnaces and HVAC systems.
Professional assessments
If you're interested in getting your house in shape for the winter but don't know what needs to be done, an energy audit can identify ways to improve heat retention and energy efficiency.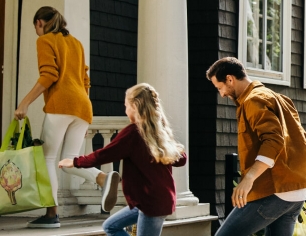 Quote homeowners insurance online or call for advice