Does car insurance cover guardrail damage?
If you have collision coverage, your policy may help to repair or replace your car if it's damaged after hitting a guardrail, minus your deductible. Medical payments or personal injury protection coverage could also pay for any injuries from the guardrail accident. As for damage to the guardrail, your liability coverage could cover the cost to repair or replace it.
4 min to read
If I hit a guardrail, do I have to pay for it?
If you hit and damage a guardrail, your liability coverage may pay for the property damage to the guardrail, up to your policy's limit. It's best to take pictures of the damage so it can be submitted to your insurance company with the claim. The insurance company can directly pay the city for the cost to repair or replace the guardrail. You can also choose to pay for the guardrail damage out of pocket if you decide not to file an auto insurance claim.
Can I leave after hitting a guardrail?
Hitting a guardrail with your car and leaving without reporting the incident could be considered a hit-and-run misdemeanor, so it's always best to stay and report the car accident to the police. It's also important to carefully examine your car after sideswiping a guardrail, or hitting any object, to assess the damage, take pictures, and get your car to an auto body shop if needed.
Staying at the scene could be beneficial for your claim as well — if you suspect the guardrail accident was caused by poor highway conditions or mechanical failure, for example, you'll want to gather as much evidence as possible in the immediate aftermath of the accident. Each state has its own requirements for reporting accidents, so it's important to understand the specific rules in your state.
Auto collision coverage and guardrail damage
The damage you cause to a guardrail after an accident is generally covered under your policy's property damage liability coverage. However, you'll need auto collision coverage if you want the damage to your vehicle covered. Collision is an optional insurance coverage that helps pay for repairs to your own vehicle when you're in a crash, even if you're at fault or your vehicle is the only one involved. For example, if you hit a pole, collision may pay to repair your car. The same is true if you hit a curb or if you sideswipe a guardrail.
How to add collision coverage to your policy
New Progressive customers
Quote auto insurance online or call 1-866-749-7436 to add collision and other coverages to your new policy.
Current Progressive customers
Log in to your policy or call 1-866-749-7436 to add collision and any other coverages you'd like.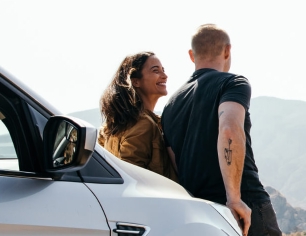 Quote car insurance online or give us a call