Is your homeowners insurance dog-friendly?
Homeowners insurance can provide liability protection to everyone in your family — including your four-legged friends. If you have a dog or a cat, your policy's liability coverage may offer protection if you're liable for injuries or damages caused by your pet. However, there are certain exceptions and restrictions.
4 min to read
Do I have to add my dog to my homeowners insurance policy?
If you're asked about household pets on a home insurance application, you should always be truthful. Even if the questionnaire you fill out doesn't explicitly ask, it's still your responsibility to let your insurer know if there are any animals in the house. Note that some insurers exclude exotic, saddle, and farm animals without adding an endorsement to your policy. Your insurer may be able to suggest specific coverage that can better protect your assets if you're liable for injuries or damages due to your pet.
How does home insurance cover pet liability?
When you own a pet, you're legally liable for any injuries or damages caused by the animal. Homeowners insurance won't cover property damage or injury to occupants of your home caused by a pet, but generally covers claims that other parties make as a result of your pet's actions—regardless of whether the incident happened at your home or elsewhere. Coverage typically applies even if the pet is not in your care at the time of the incident, such as a friend pet sitting while you're on vacation.
Pets may be covered under the liability limits of the owner's home insurance policy, typically between $100,000 and $500,000. Some pet owners choose to supplement their coverage with an additional umbrella policy.
Pro tip:
Your home insurance won't cover damages or injuries you suffer due to another person's pet. In this instance, you may file a claim against the responsible pet owner's homeowners or renters insurance policy.
Does homeowners insurance place restrictions on dog breeds?
Since dog bite statistics show that certain breeds are more prone to biting than others, there are specific dog breeds homeowners insurance won't cover. These vary by insurer, but often include the following breeds:
Pit bulls
Rottweilers
German shepherds
Mixed-breed dogs
American bulldogs
If you own a dog that's on an insurance company's aggressive breed list, the insurer will likely include a clause in the policy that excludes your pet from coverage.
How much does a dog add to your home insurance premium?
Having a dog can increase your cost for homeowners insurance. Pet ownership is one element that insurers use to determine risk. The exact cost of adding a dog to your homeowners insurance will depend on the breed and where you live, among other factors.
If you need to file a claim related to your pet, especially following a dog bite, your homeowners insurance rate could increase — or even result in your policy being cancelled or nonrenewed.
How common are dog bite claims?
Dog bites are the most common homeowners insurance claim relating to pets. According to the Insurance Information Institute, more than 17,000 dog bite claims are filed each year. Home insurance companies have put certain exclusions into place with regard to dog bite incidents—depending on the insurer, certain dog breeds with higher bite rates may be restricted from home insurance coverage entirely.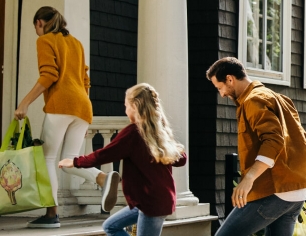 Quote homeowners insurance online or call for advice