What is extended replacement cost?
Extended replacement cost is an endorsement on your home insurance policy that extends your dwelling coverage by 10% to 50% of the cost to rebuild your home. Also known as extended dwelling coverage or increased replacement cost, extended replacement cost may help repair or rebuild your home after a covered loss when the cost of materials and labor have increased in your area. Note that "replacement cost" refers to the cost to rebuild your home, not the actual market value of the house.
2 min to read
How does extended replacement cost work?
If the damage resulting from a covered loss exceeds your dwelling coverage limit on your homeowners policy, you're responsible for the additional expense. Purchasing an extended replacement cost endorsement increases your dwelling coverage limit, which may safeguard against paying the excess costs out of your pocket. Here's an extended replacement cost example to consider:
Example:Your home is destroyed by a hurricane and your policy's dwelling coverage is $300,000. Because everyone else in the area is also trying to rebuild, construction costs go up dramatically. Your contractor estimates it will cost $350,000 to rebuild your home, leaving you with a $50,000 bill to cover. If you have a 25% extended replacement endorsement on your policy, your dwelling coverage would extend up to $375,000, covering the new cost to rebuild your home.
How much is extended replacement cost?
Costs vary by insurer and the amount of coverage you choose. The cost for the extended or increased replacement cost endorsement depends on the percentage you choose to purchase and your dwelling coverage limit. You may pay more if you live near the coast or in an area at increased risk for certain perils like wildfires.
Who needs extended dwelling coverage?
If you live in a high-risk area for flooding, hurricanes, wildfires, earthquakes, or other natural disasters, extended dwelling coverage may protect you against increased costs that often come after natural disasters. When widespread damage and destruction hit an area, the cost of rebuilding or repairing homes will often increase as materials and labor are in higher demand by those affected.
What is guaranteed replacement cost?
Guaranteed replacement cost coverage can pay to repair or rebuild your home even if the damage exceeds the limits of your policy. While increased replacement cost coverage has a set limit, guaranteed replacement cost often has no specified limit for the extra coverage. Note that many insurers don't offer guaranteed replacement cost.
Get the right coverage to protect your home
Online
Compare and customize your coverages and limits when you quote online.
Quote homeowners insurance online
Call a rep
Talk to a licensed representative who can help you quote home insurance.
Call 1-866-749-7436
Through an agent
Connect with a licensed independent agent in your neighborhood.
Find an agent online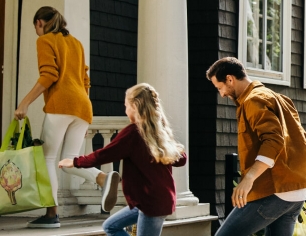 Quote homeowners insurance online or call for advice