What is dwelling coverage?
Dwelling coverage (often called Coverage A on a homeowners or condo insurance policy) is one part of your home insurance policy that covers your house, including an attached garage, countertops, flooring, and built-in appliances. If your home is damaged by a covered peril, your policy's dwelling coverage may pay to repair, rebuild, or replace your home's physical structure. Dwelling coverage is included in every homeowners or condo policy. Because your home is typically your most important asset, dwelling coverage is an essential aspect of home insurance.
2 min to read
What does dwelling coverage insure?
Your home insurance dwelling coverage may provide protection for several types of structures, which may include:
Your house
Attached garage
Attached deck
Verandas, screened-in porches, etc.
Chimneys
Building materials permanently installed (flooring, ceilings, countertops, cabinets, vanities, etc.)
What perils does a dwelling policy usually cover?
The perils covered by a homeowners insurance policy may vary by insurer and state, but can include such hazards as:
Lightning strikes
Explosions
Falling objects
Theft and vandalism
Damage caused by weight of snow, sleet, or ice damming
Note: Dwelling coverage on standard policies typically won't protect against damage caused by floods, earthquakes, sewer backups, or lack of maintenance. Learn how flood insurance works and what to do if your home is damaged in an earthquake.
Homeowners insurance coverage for dwelling vs. other structures
Dwelling coverage only applies to structures attached to your main residence, meaning that detached garages, sheds, barns, unattached guest homes, fences, or any other detached structures are typically not covered under dwelling coverage. Instead, these structures may be covered by your homeowners insurance policy under other structures coverage.
How much dwelling coverage do I need?
Most home insurers will ask several questions about your home to give you an accurate insurance quote, including the type of your roof, the year your home was built, square footage, flooring, and the number of bathrooms. Their goal is to determine how much it would cost to rebuild your home from scratch in the event of a total loss. The rebuild price is called the "replacement cost value" and will usually be a different amount than your home's fair market value or the figure you might see on a realtor's website.
Use our homeowners insurance calculator to calculate how much dwelling coverage you'll need on your homeowners policy.
Progressive can help you find the right amount of dwelling coverage for your home
Online
Compare and customize your coverages and limits when you quote online.
Quote homeowners insurance online
Call a rep
Talk to a licensed representative who can help you quote home insurance.
Call 1-866-749-7436
Through an agent
Connect with a licensed independent agent in your neighborhood.
Find an agent online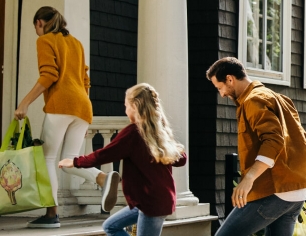 Quote homeowners insurance online or call for advice