What is loss of use coverage on a homeowners insurance policy?
Loss of use coverage is typically included in standard homeowners, condo, or renters policies and may pay for your hotel/living and meal expenses if you're unable to live in your home due to something your home insurance covers. Also known as Coverage D, loss of use coverage pays for living expenses above what you would normally spend.
4 min to read
What does loss of use cover?
Loss of use coverage pays for additional living expenses you incur if your home is not suitable to live in due to a covered loss. It's important to note that loss of use covers the excess of what you normally spend for certain things. For instance, let's say your home is damaged by fire. You're unable to use your kitchen to cook, so you've been eating your meals at a restaurant. Your tab at the restaurant was $600 for the week, but you normally spend $300 weekly for groceries. Your loss of use coverage will pay out the difference of $300.
Examples of loss of use/additional living expenses include:
Temporary housing (hotel or rental home)
Additional fuel costs
Additional utilities
Additional food expenses (groceries, restaurants, cooking supplies)
Storage units
Boarding of pets
Laundry
Moving costs
Public transportation fees
Parking fees
Limits on loss of use coverage
On a homeowners policy
Loss of use coverage on home insurance policies typically offer 10% or 20% of your dwelling coverage. For example, if you have $200,000 in dwelling coverage, you'd be covered up to $20,000 or $40,000 in the event of a covered loss, depending on your policy.
On a condominium policy
Typically, condo insurance policies will provide loss of use coverage that is equal to 20% of your combined dwelling coverage and personal property coverage limits. For example, if you have a $60,000 limit for dwelling coverage and a $30,000 limit for personal property coverage, your loss of use coverage limit will be $18,000.
On a renters policy
Depending on your insurance company, loss of use on renters insurance may be a flat amount (between $3,000 and $5,000) or a percentage of your personal property coverage. At ASI, one of the insurers in Progressive's network and part of our family of companies, you're covered up to 40% of your personal property limit. That means if you have $100,000 in personal property coverage, you will have up to $40,000 in loss of use coverage.
Loss of use coverage on a rental property
Landlords may be eligible to be reimbursed for lost rental income through their loss of use coverage if their tenants are unable to reside in the dwelling due to a covered loss (lease cancellations are not covered). ASI offers loss of use coverage options of $0, 10%, or 20% of your dwelling coverage.
Pro tips for loss of use claims
Check your limits: Some insurers only offer loss of use coverage for a certain amount of time after a covered loss. This may depend on your state, so check with your insurer to see if any time limits apply.
Know what expenses qualify: Generally, you're only covered for expenses that are considered "normal." You may want to verify with your insurer in advance if your expenses qualify. Additionally, if you plan on staying at a certain hotel because you're unable to live in your home due to a covered loss, check with your insurer to make sure there won't be any reimbursement issues for that hotel.
Keep receipts for all your additional living expenses: Your insurer typically requires you to submit copies of your receipts for review prior to issuing a reimbursement check.
Continue to pay your mortgage or rent: Loss of use coverage will not cover your mortgage or rent payment during the time you're unable to live in your home due to a covered loss.
Ask for help: If you need assistance finding a place to stay, your insurance company can usually help. Being displaced from your home is never easy, and your claims representative can help ease the transition.
Get a home insurance policy with loss of use coverage
Go online
We'll ask simple questions about your property, then you can customize your coverages and start date.
Get a homeowners insurance quote
Call us
Speak with a licensed homeowners representative who can guide you through your quote.
Call 1-866-749-7436
Ask an agent
We'll connect you with a licensed independent agent near you.
Find an agent online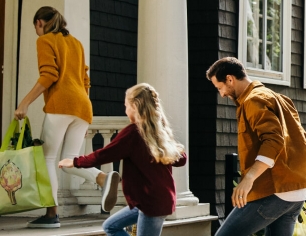 Quote homeowners insurance online or call for advice