What is landlord insurance?
If you're a landlord or insuring any property that isn't your primary residence, a Dwelling Fire policy may protect you from financial loss if you have rental properties or tenants. Whether you make a living renting multiple properties or you're an "accidental landlord," renting the home you just moved out of and can't sell, a Dwelling Fire policy is important insurance for landlords to carry because standard homeowners policies don't usually cover homes being rented out.
2 min to read
What does landlord insurance cover?
Landlord insurance protects the home or structure you rent and provides personal liability coverage. Liability coverage pays for lawsuits against you or things that are your fault. For example, liability coverage protects you if your tenant sues you because they had a slip and fall accident on the stairs because the handrail was broken. Like homeowners insurance, landlord insurance will protect your property against fire damage, storm damage, lightning, wind, hail, etc. It will also cover you when dealing with tenants.
Landlord Insurance FAQs
Do I need landlord insurance?
Landlord insurance is not required by law, but most lenders will require it if you're financing the property or have a mortgage on it. Remember, your homeowners insurance policy likely will not cover the home you're renting out. That means any damage to the home, the belongings inside you own, or lawsuits against you will not be covered unless you get landlord insurance. Learn more about how homeowners insurance works.
Does landlord insurance cover loss of rental income?
Most insurers will protect the landlord against loss of rent in the event of a covered loss. For example: A tree falls on the house, your tenants can't stay there, and don't pay rent. But, you won't have coverage if your tenant can't pay the rent because of a job loss or financial problem.
Does landlord insurance cover tenant damage?
Typically, yes. To avoid these types of situations, landlords generally require a security deposit to pay for damages by a tenant.
Does landlord insurance cover the cost of evicting a tenant?
Insurers usually don't cover eviction costs. However, eviction insurance can be purchased separately from other companies.
Does landlord insurance cover the tenant's stuff?
No. It's a common misconception that a tenant's personal belongings will be covered by the landlord's insurance. The tenant needs a renters insurance policy to protect whatever stuff they bring with them. That's why some landlords mandate or strongly encourage their tenants to get renters insurance. The last thing you want is your tenant mad at you because they didn't know their stuff wasn't protected under your policy.
Learn about how much renters insurance costs.
Online
Compare and customize your coverages and limits when you quote online.
Quote homeowners insurance online
Call a rep
Talk to a licensed representative who can help you quote home insurance.
Call 1-866-749-7436
Through an agent
Connect with a licensed independent agent in your neighborhood.
Find an agent online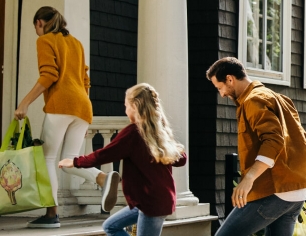 Quote homeowners insurance online or call for advice