How does home insurance cover storm damage?
Standard home insurance policies may cover your home and most items against wind damage, but it depends on the insurer. Flood insurance must be purchased separately, and earthquake coverage may be added via a rider or endorsement (depending on your home insurer).
5 min to read
What types of severe weather damage does home insurance typically cover?
Hail: Standard home insurance will generally cover hail damage, minus your deductible. In fact, hail damage to your roof is one of the most common weather-related insurance claims. Additionally, damage from the weight of ice, snow, or sleet may be listed as a covered peril on your homeowners policy.
Wind (including tornadoes and hurricanes): Standard home insurance policies typically cover damage to your home's structure and belongings from high winds, including those caused by events like tornadoes, hurricanes, and winter storms. However, it's possible that your policy excludes or reduces coverage for wind damage, so check the terms and conditions. If your policy does exclude wind damage, you may be able to purchase a separate policy for wind coverage. Learn more about how home insurance may cover hurricane damage and tornado damage.
Pro tip:
"Hurricane insurance" and "tornado insurance" don't exist as standalone policies, but you may have storm insurance coverage for damage caused by severe weather under your standard homeowners policy or a wind policy you purchased separately.
Wildfires: Most standard home insurance policies include coverage for damage caused by wildfires. However, like with wind damage, you may not be able to find an insurer that includes wildfires as a covered peril if you live in a place where wildfires are common. If you shop around and can't find an insurer that covers wildfire damage, check for a state-run FAIR (Fair Access to Insurance Requirements) plan to obtain coverage.
Lightning: Damage to your home and personal property from lightning is typically covered by your home insurance policy.
What types of severe weather damage does home insurance typically NOT cover?
Floods: Flood damage is not typically covered under standard home policies. However, specialized flood insurance may be purchased from the National Flood Insurance Program (NFIP) or a private flood insurance company.
Earthquakes: Home insurance policies typically won't cover damage from earthquakes on standard policies. In certain states, some insurers offer a separate policy or endorsement for earthquake coverage. In California, earthquake coverage is offered through the California Earthquake Authority (CEA).
Hurricane and windstorm deductibles
Your homeowners policy might have a separate, higher deductible for damage caused by windstorms or hail. Homeowners insurance deductibles may be based on a percentage of your home's Coverage A (dwelling coverage) amount, Coverage A and C (personal property coverage) amounts combined, or a flat dollar amount, so check your policy to find out your deductible.
How insurance covers severe weather damage
Here's how home insurance policies might cover damage from certain storm-related perils, including:
Wind and hail damage to home: Suppose your home's roof or siding gets damaged by strong winds, rain, or hail, which may also result in damage to the interior of your home. Your homeowners insurance may cover this damage, as long as there isn't a wind damage exclusion on your policy. You may also be covered if a tree falls on your house due to strong winds.
Water or ice damage to home: Sudden and accidental water damage from inside your home may be covered by insurance. However, if a storm floods your yard, you won't be protected; you'll need separate flood insurance for that. Damage from an ice dam or the weight of ice, snow, or sleet may also be covered by your dwelling coverage.
Lightning strike damage to home: If lightning hits your home and causes a fire or power surge, it will typically be covered by your homeowners policy. You may also be protected for electronics or appliances damaged by a power surge.
Pro tip:
If your car, motorcycle, RV, or boat is damaged by weather, your optional comprehensive coverage under that vehicle's insurance can pay the cost to repair or potentially replace it. A deductible will apply.
Tips for protecting your property from severe weather
Check your policy: Be aware of any exclusions and coverage limitations. If your home is in an area prone to severe weather, make sure you have the right storm insurance coverage in place. If you're unsure about what's covered, reach out to your insurance company.
Be proactive: Don't wait to purchase the proper protection until a disaster occurs. If there's a hurricane watch in your area, it may be too late to buy homeowners insurance, as most insurers won't offer policies if there's an impending hurricane.
Make sure your deductible is within your budget: As mentioned, storm and wind deductibles can be expensive. Be prepared to pay more in out-of-pocket expenses for situations where your policy's percentage deductible is more than you can afford. If you have the option for a flat deductible amount, you may want to choose the lowest deductible in exchange for paying a bit more on your monthly premium.
What steps should I take for a weather-related insurance claim?
When you experience damage to your home due to severe weather, contact your insurer immediately to get things rolling and prevent further damage from occurring. If your home is damaged due to severe weather but you aren't sure if it meets your deductible, consider contacting a qualified professional to inspect the damage and write a quote for repairs. If the estimate exceeds your deductible, contact your insurer to discuss filing a claim. Documenting the damage with photos or a video may come in handy when your claim gets reviewed.
Protect your home from storm damage
New Progressive customers
Get a homeowners insurance quote online, or call 1-866-749-7436 and one of our licensed representatives will help you select the right coverages.
Current Progressive customers
If you're concerned you may not have the correct coverages, login to your home insurance policy online or call 1-866-749-7436 to speak with a representative.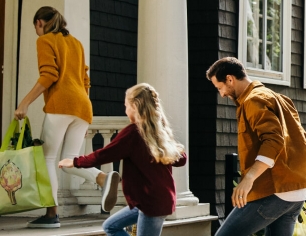 Quote homeowners insurance online or call for advice