What are perils and hazards?
In the world of insurance, a "peril" is an event or circumstance that results in property damage. Your homeowners, condo, or renters policy contains a list of covered perils, such as fire, lightning, and vandalism. If a covered peril causes damage, your insurer will pay to repair, replace, or rebuild your home or property minus your deductible. A "hazard" is a condition that increases the chance of a peril occurring.
2 min to read
What is the difference between perils vs. hazards?
A peril is the cause of the loss, and a hazard increases the likelihood of a peril happening. People often mistakenly interchange perils and hazards when discussing property insurance, but they aren't synonyms.

Example:Suppose a fire begins in your chimney and destroys your home because you have not cleaned the chimney in a few years. In that case, the fire is the peril, and the dirty or defective chimney is the hazard.
A "hazard" is not the same thing as "hazard insurance," which is a term that mortgage lenders often use to describe dwelling coverage.
What is a covered peril?
A covered peril is an event that your insurance will cover. When you file a claim for a covered peril — such as a lightning strike, fire, theft, vandalism, wind, or hail damage — your insurance company will reimburse you for the damage less your homeowners insurance deductible. Your dwelling coverage, which protects your home's structure against damage, might have different covered perils than your contents would in a policy.
What are examples of perils?
Perils can range from weather events to other events like theft or vandalism. Exactly which perils your homeowners insurance policy will cover may vary by home insurance policy type.
Here are a few examples of common perils:
Fire or lightning: Includes damage caused by lightning or an event caused by a lightning strike, such as a fire.
Weight of ice, snow, and sleet: Refers to snow accumulation or an ice dam that causes damage to your home, such as a roof leak.
Windstorm & hail: Includes damage caused by a wind or hailstorm.
Theft & vandalism: Refers to stolen belongings and willful damage to your property.
Accidental water/steam overflow or discharge: Refers to water damage from a sudden break or blockage in your plumbing or HVAC system.
Falling objects: Includes damage from a tree that falls on your house.
Power surges: Refers to sudden and accidental damage from an artificially generated electrical current or power surge.
Named peril vs. open peril
Named perils and open perils refer to the different types of coverage provided in your home insurance policy.
What is a named peril?
"Named perils coverage" means your policy only covers specific or "named" perils listed in your policy. If you file a claim, the damage must result from a listed covered peril. This type of policy limits the number of events or types of damage your insurance may cover when you file a claim. Coverage for your contents is generally provided on a named peril basis. You might get a discount on a home insurance policy if you are willing to have named peril coverage on your dwelling, but keep in mind you will be less protected.
What is open peril coverage?
"Open perils coverage," also called "all risks coverage," means you're covered against a peril unless your policy specifically excludes the loss. While you'll typically pay more for a home insurance policy with open perils coverage, this coverage is standard for your dwelling coverage. Remember that you usually won't purchase an open peril policy with renters insurance as contents are usually covered on a named peril basis.
Use our homeowners insurance calculator to estimate homeowners insurance coverages and limits to best protect your home.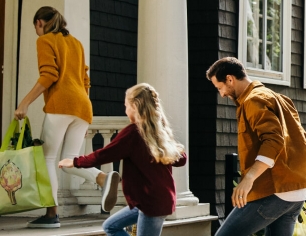 Quote homeowners insurance online or call for advice