Does homeowners insurance cover ice dams?
The dwelling coverage of a homeowners policy may cover the cost to repair ice dam damage. That may include repairing your roof, walls, or other damage to the structure of your home up to your coverage limits. Damaged personal property may also be covered. However, damage that occurs over time from a lack of maintenance before or after the ice dam damage may not be covered.
4 min to read
What is an ice dam?
An ice dam forms when the snow on your roof starts to melt and runs into the eaves and gutters. The water refreezes and creates a ridge of ice on your gutter and roof. The ice dam can creep higher up your roof as more water freezes, creating a barrier.
As the ice dam builds, it might block your gutters and cause water to be unable to drain, creating an even larger ice dam and pools of water that can make their way into your roof and walls and cause significant damage. The resulting issues may include water leaks, shingle damage, and even a roof collapse, leading to costly repairs.
Is ice dam removal covered by insurance?
Depending on the circumstances and your insurance provider, homeowners insurance may not cover the removal of an ice dam.
What other types of ice damage are covered?
A standard homeowners insurance policy may provide coverage for ice-related damage resulting from hail, the weight of snow, sleet, or ice, and burst pipes. If your policy covers these ice-related perils, you can file a claim for the damage resulting from them.
When is ice damage not covered?
Damage that occurs over time from a lack of maintenance before or after an ice-related event likely won't be covered. Also, most homeowners insurance policies exclude coverage for certain structures damaged by freezing, thawing, or the weight of water or ice. These structures might include, among others:
Fences
Pavement
Swimming pools
Patios
Foundations
Retaining walls
Piers
Wharves
Docks
Is hail damage covered by homeowners insurance?
If hailstorms are a covered peril on your policy, your homeowners insurance may cover the cost to repair your home and other structures after a hailstorm, up to the insurance limits of your dwelling coverage and other structures coverage limits.

In areas where hailstorm damage is common, there may be exclusions for hail damage, limits to coverage, and a deductible specifically for hail-related claims. Common nuances to hail damage coverage include:
Cosmetic hailstorm damage exclusion: Depending on your location and policy, if the hail damage doesn't impact the structural integrity of your home and only affects the aesthetics, it might not be covered.
Hailstorm deductible: Your policy may have different deductibles for different perils. Check your policy or talk with your insurer to find out what your deductible would be for a hailstorm claim.
Does homeowners insurance cover snow damage?
If the weight of heavy snow, sleet, or ice causes your roof to collapse and such events are covered perils on your policy, your homeowners insurance dwelling coverage may cover the cost of repairing or replacing your roof, up to your limit and minus any deductible.
Your personal property coverage may cover the cost to replace any personal items that get destroyed if your roof collapses from the weight of snow, sleet, or ice, up to your limit and any item-specific sub-limits. If your home is deemed unsafe or unsuitable to live in, your policy's loss of use coverage may cover your living expenses beyond what you'd normally spend, such as a hotel stay and restaurant meals. This coverage may be limited to a set dollar amount or a certain number of days while your home is being repaired.
What if someone slips on ice at my house?
If someone is injured at your home because they slipped on ice or snow, your personal liability coverage may cover their medical bills and, if they take legal action, your legal costs — up to your policy limits if you are found liable. During the winter, remove snow and ice from your driveway and paths to minimize the risk of injury.
If my pipes freeze, will homeowners cover the damage?
Homeowners insurance may cover a burst, frozen, or leaking pipe if the leak is caused by a covered peril and not due to negligence. Coverage may also extend to your personal possessions if they're damaged in the incident.
If you turn your heat down before going on vacation and a pipe freezes and bursts, coverage may be denied since you contributed to the conditions that led to the frozen pipe. If you're going away when temperatures will be below freezing, be sure to maintain your heat. If your home will sit vacant over the winter, consider winterizing it and ask a friend or family member to check in on it periodically.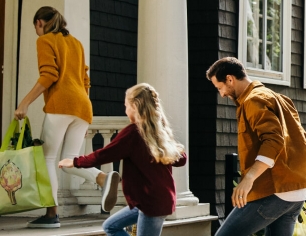 Quote homeowners insurance online or call for advice