What is Coverage B on a home insurance policy?
Coverage B, also known as other structures insurance coverage, is the part of your homeowners policy that protects structures on your property not physically connected to your home, such as a detached garage, storage shed, or gazebo. Your other structures coverage limit is typically set at 10% of your policy's dwelling coverage, but this can vary by insurer.
3 min to read
What's included under other structures coverage?
Other structures coverage on your homeowners insurance policy protects against damage to:
Pro tip:
If you have numerous or particularly large other structures on your property, it might be worth finding out their replacement cost. If it would cost more than your limit to repair or replace them, look into adding more coverage.
Other structures includes property that's set apart from the main dwelling by a distinct space or connected only by a fence. Attached garages and attached decks are covered under your policy's dwelling coverage, while a detached structure such as a storage shed in the backyard falls under other structures coverage.
Is a swimming pool covered by other structures coverage?
Depending on your insurer, an in-ground or permanent above-ground swimming pool falls under either dwelling coverage or other structures coverage. Since swimming pools are considered attractive nuisances, insurance companies often require them to be fenced. Make sure your personal liability limit covers your assets in case you're liable for injuries or damages. Learn more about how swimming pools may be covered by insurance.
How much coverage does other structures insurance provide?
Although the amount can vary depending on your policy, your Coverage B limit is typically set at 10% of the limit for your policy's Coverage A, also known as dwelling coverage. For example, if your dwelling limit is $400,000, your other structures insurance coverage would be $40,000.
If your Coverage B amount wouldn't sufficiently pay to repair or replace your other structures, you may be able to increase it, depending on your insurer, by adding more coverage or an endorsement to your policy. Learn more about homeowners insurance coverages.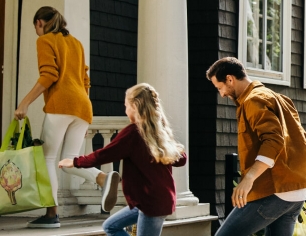 Quote homeowners insurance online or call for advice