Does homeowners insurance cover fences?
Typically, homeowners insurance covers fence damage under your policy's other structures coverage, if the fence is maintained well and the damage isn't caused by carelessness. For example, if a well-maintained tree collapses and demolishes your fence, your insurance company will most likely cover the damage. However, if the tree that causes the damage was diseased or maintained poorly, your insurance company could deny the claim.
4 min to read
How does homeowners insurance cover damaged fences?
Also known as Coverage B on your home insurance policy, other structures coverage may pay to repair or replace damage to your fence. The limit on your other structures coverage can vary but often is 10% of your policy's dwelling coverage (Coverage A).
Example:If your policy's dwelling limit is $200,000 and you've selected the 10% limit, damage to your fence can be covered up to $20,000.
Does home insurance cover fences in every situation?
If you've maintained your fence with no negligence involved and your fence is damaged by a covered peril, repair or replacement may be covered. If your fence is damaged from a storm, you may be protected up to the coverage limit — as long as your policy doesn't exclude wind coverage (e.g., tornados, hurricanes, etc.).
In an instance such as vandalism, you should contact the police and obtain a copy of the police report to give your insurance company.
Does homeowners insurance cover a blown-down fence?
Yes, homeowners insurance may cover fences blown down by wind and other wind-related fence damage, as long as your policy doesn't exclude wind coverage. Just as with fence damage from a storm, the fence needs to have been maintained well before the wind event.
A note on fence damage caused by a car
When a car crashes into your fence, you have multiple options. Most likely, you'll hold the driver accountable and file a claim against their car insurance policy. All states but New Hampshire require drivers to have a specific amount of property damage liability coverage, so the at-fault driver's insurance may cover the damage. Alternatively, you could file a claim with your homeowners policy, but you'd need to meet your deductible before coverage kicks in.
What would happen if a neighbor's tree fell on my fence?
In this instance, your insurance company may cover the damage and could hold your neighbor accountable. Keep in mind that some states consider a tree on the boundary line between properties to be the equal responsibility of both parties, so you and your neighbor may both be on the hook for the cost. Learn more about how home insurance covers damage from fallen trees.
When is fence damage not covered by homeowners insurance?
If your fence is damaged by a flood or earthquake, it won't be covered under your homeowners insurance policy. Rather, you can purchase a separate flood insurance or earthquake insurance policy.
How do I file a fence damage insurance claim?
If the fence damage was caused by a tree, storm, or other event covered by your homeowners insurance policy, be sure to take the appropriate steps before filing a claim:
Document the damage thoroughly

Take photos and record the time the incident occurred. Although your insurance company will likely take their own photographs, give yourself added proof of the event before removing any debris.

Obtain an estimate for the cost of repairs

You may be required to get an estimate before filing a claim. As a plus, if the estimate is higher than your deductible, you'll know it might be worthwhile to move forward with your claim. Once you've obtained your estimate, contact your insurance company and follow their process to file a homeowners insurance claim. The step-by-step process varies by company, but you can typically get the ball rolling over the phone or by visiting their website.
Protect your fence from tree and storm damage
New Progressive customers
Get a home insurance quote online or call 1-866-749-7436 and one of our licensed representatives will help you select the right coverages.
Current Progressive customers
If you're concerned you may not have the correct coverages, check your home policy online or speak with a representative by calling 1-866-749-7436.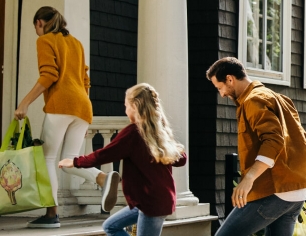 Quote homeowners insurance online or call for advice