Does home insurance cover water damage?
Coverage for water damage depends on the situation and the source. If the damage is sudden, accidental, and comes from inside your home, you're typically protected with a standard homeowners insurance policy. However, you typically won't be covered if the water damage is caused by outside flooding or a neglected repair.
4 min to read
Understanding water damage insurance claims
Aside from wind and hail damage, the most common home insurance claim stems from water damage. Determining whether you're covered for water damage usually depends on three key factors:
Policy type
It's essential that you know exactly what type of water damage is covered by your homeowners insurance. For instance, you may have a sump pump designed to siphon water from beneath your house. If the pump breaks down, your basement might flood. Insurers like Progressive Home, one of the insurers in Progressive's network and part of our family of companies, offer optional coverage called "water back-up and sump overflow." Water back-up coverage protects you in the event of a sump pump failure or clogged sewer. Learn more about homeowners insurance coverages.
Source of damage
The phrase "consider the source" is particularly relevant when it comes to water damage. If the source of the damage comes from inside your home, such as a water leak from plumbing , a broken pipe or overflowing appliance, you'll likely be covered by your homeowners insurance. Roof leaks are generally covered by your homeowners insurance policy as well, but you typically won't be protected from water damage coming from outside sources like flooding. Learn more about how roof leaks are covered by home insurance.
Sudden and accidental vs. gradual
Most policies won't protect you against gradual damage — meaning "wear and tear." For example, if your bathroom sink has been leaking for several months, your homeowners insurance may not cover any resulting water damage or plumbing costs.
If frozen temperatures cause a pipe to burst and flood your home, you're generally covered because it's considered a sudden and accidental incident. However, there may be preventative measures you need to take for this to be covered. Learn how to winterize a home and prevent pipes from freezing in the winter.
When does homeowners insurance cover water damage?
Homeowners insurance covers several kinds of common water damage.
Sudden plumbing issues
Appliance overflows
Fire extinguisher/hose damage from fires
What types of water damage are not covered?
Water back-up from sewer or drain
Water damage from a sewer or drain back-up usually won't be covered on a standard policy. However, most insurers offer optional sewer and water back-up coverage that you can add to your policy for an additional premium.
Flooding
When water damage comes from flooding, it's typically not covered on a standard homeowners insurance policy. This type of damage is usually covered by flood insurance from the National Flood Insurance Program. You should consider flood insurance if you live in a higher risk flood zone or near any body of water or a steep hill prone to water overflow.
The source of the water damage
Let's say your dishwasher malfunctions and overflows. Your home insurance will cover the water damage caused by the mishap, but it typically won't cover the cost of repairing or replacing the dishwasher as home insurance isn't intended to protect against wear and tear. However, a home warranty may cover the cost to repair or replace an appliance. Learn more about the difference between a home warranty vs. homeowners insurance.
Negligence
Your water damage insurance claim can be denied if you've failed to perform proper maintenance. For instance, if a pipe freezes and bursts because you didn't properly heat your home or your water heater explodes because it wasn't maintained regularly, your claim may be denied.
What you should do if you experience water damage?
Record the damage: Take videos and photos of the affected area and damaged belongings. Don't alter the scene or remove ruined items until an adjuster has completed their inspection.
Prevent more damage: Take steps such as removing excess water and moving undamaged valuables to avoid further harm.
Take a home inventory: Make a detailed list of all damaged items, including their make, model, age, and cash value, whenever possible. Learn more about how to take a home inventory.
Frequently asked questions about home insurance and water damage
Does homeowners insurance cover water damage from rain?
Depending on how the water damage occurs, homeowners insurance may cover water damage from rain. Flooding typically won't be covered by standard homeowners insurance, even when it's the result of severe rain or extreme weather events. However, you may be covered for damage to your home's structure and personal property if rain enters the house due to a covered peril, like if a storm breaks a window allowing rain into your house and causing water damage.
Your policy's loss of use coverage may pay for you to live elsewhere while your home is being repaired due to water damage from a covered incident. Learn more about how homeowners insurance covers storm damage.
Does homeowners insurance cover mold?
Homeowners insurance won't cover mold removal or damage unless it was caused by a sudden or accidental incident.
Does renters insurance cover water damage?
In cases of water damage, renters insurance works similarly to homeowners insurance. Your belongings are usually covered if the damage was sudden, accidental, and came from inside the residence. However, unlike homeowners insurance, the responsibility for water damage to the structure in a rented residence falls to the landlord's insurance.
Learn more about what renters insurance covers.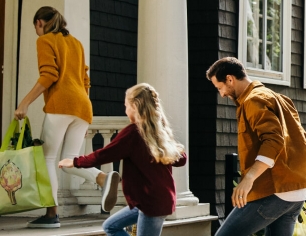 Quote homeowners insurance online or call for advice