Is an HOA responsible for water damage to your condo?
Similar to a homeowners insurance policy, condo insurance may provide coverage for water damage. Depending on the terms of your condo's homeowner association (HOA), your condo's HOA may have responsibility for water damage caused to your condo.
5 min to read
When is my HOA responsible for water damage to my condo?
Before purchasing your condo insurance policy, it's a good idea to get familiar with the condo insurance coverages your HOA offers. Some types of water damage are the condo owner's responsibility, and some HOAs provide limited coverage for specific scenarios, including shared roofs. If your condo gets water damage from a roof leak, your association may help cover repair costs. But since no two HOA master policies are the same, it's always best to review the policy thoroughly before purchasing your condo. That will give you an idea of what's covered and what isn't, and what additional insurance you might need to carry.
Does my HOA cover plumbing?
When it comes to your HOA, plumbing responsibilities more than likely will fall on you as the condo's owner. If there is a plumbing issue with the pipes within your condo unit, you may be liable for maintenance and any repairs needed. However, if there is an issue with the condo's complex as a whole, rather than just one single unit, the HOA's condo master policy may cover the repair costs.
What types of water damage does condo insurance cover?
Coverage under your condo insurance policy may cover water damage resulting from plumbing, appliances, water heaters, and HVAC systems.
Unless the water damage is due to neglect or lack of maintenance, your condo association's Master Condo Insurance Policy will typically cover you for:
Water damage from common areas
You can't always control where water damage comes from, making it difficult to prevent costly incidents. Many condo owners share common structures or areas with their neighbors, such as walls, roofs, pools, and other accommodations. Suppose a water-related incident occurs involving one of these areas, and your condo gets damaged. In that case, your HOA may cover any damages outside your unit, including roofs, walls, hallways, stairways, grounds, and other common areas.
Who is responsible for repair of water pipes in a condo?
Water damage due to a burst pipe is covered under most condo insurance policies, as long as the cause of the break is covered under the policy. Having routine maintenance checks of your pipes done by a professional can help prevent a disaster.
Pro tip:
Generally, the cause of the water damage in your condo must be deemed sudden and accidental and not the result of neglect or wear and tear in order to be covered by your condo's insurance policy.
Which types of water damage aren't covered by condo insurance?
One of the main determining factors for water damage coverage under a condo insurance policy is where the water source originated.
Water damage from flooding
Flooding typically occurs without warning, causing water levels to rise quickly, which can result in significant damage. Unfortunately, if a flood leaves you with water damage, your condo insurance generally won't provide coverage for such damage. As with homeowners insurance, you'll likely need a separate flood insurance policy if you want coverage.
How to get condo insurance through
Progressive
Online
Customize your coverages and start date when you get a quote online.
Get a condo insurance quote & buy online
Call us
Talk to a licensed representative who can help you quote condo insurance.
Call 1-866-749-7436
Through an agent
Connect with a licensed independent agent in your area.
Find an agent online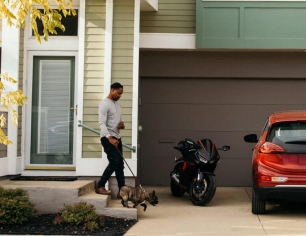 Get a condo insurance quote online or call for advice