Does homeowners insurance cover mold?
Homeowners insurance doesn't usually cover mold damage or removal unless it's the result of a covered peril. If the mold in your residence was caused by something sudden or accidental, such as a bursting pipe or some other covered incident on your policy, you may be protected. However, if the mold has been around for weeks or longer, your policy likely won't cover the expense.
3 min to read
When is mold covered by homeowners insurance?
You may be covered for sudden mold-related incidents specified on your policy, such as a water heater bursting and flooding your basement, causing mold in the aftermath. Or if a fire in your home is extinguished with hose water, which results in dampness and mold.
When isn't mold covered by homeowners insurance?
Mold insurance claims likely won't be covered if the mold resulted from neglect, such as a pipe leaking under the kitchen sink for months, resulting in water damage and, consequently, mold. Another example of negligence is if a window isn't properly sealed and rain seeps inside continuously over time, leading to mold growth. Learn more about how home insurance covers water damage.
Is mold remediation or removal covered by insurance?
Remediation and removal of mold won't be covered by your homeowners insurance unless the mold resulted from a covered peril, and coverage is often limited.
How to prevent, identify, and treat mold in your home
With moisture comes the possibility of mold. Mold can grow anywhere in your home, including ceiling tiles and inside walls, so it's critical to practice moisture control. It's also important to recognize signs of mold and treat it immediately.
Tips that may help prevent mold:
Check for water leaks and make repairs right away
Make sure your downspout is directed away from your home
Watch for condensation on your walls and windows
Consider running a dehumidifier in your basement or other damp areas of your home
Keep your gutters free of debris and functional
Make sure fresh air circulates throughout your home to decrease moisture
Perform routine maintenance on all appliances that use water
Avoid carpet in wet areas like basements and bathrooms
Possible signs of mold
Odors: Inside your home, mold will normally have a musty, damp smell. If you detect a musty odor and suspect mold could be growing inside the walls of your home, consider contacting a mold remediation professional to conduct an inspection.
Health issues: Mold can cause an allergic reaction. Symptoms include a runny nose, itchy eyes, or nasal congestion and may be worse when you're at home.
Visible mold: Mold growth can appear in any color and while only a small amount may be visible, it may indicate a larger, hidden issue. If you're purchasing a home, these issues may be spotted during a home inspection and should be addressed with the seller.
How to treat mold
If mold is visible on your home's hard surfaces, you may be able to remove it with household products, soap, and water. Depending on the size and the cause of the mold, a professional remediation company may be required to ensure proper removal and repairs are completed.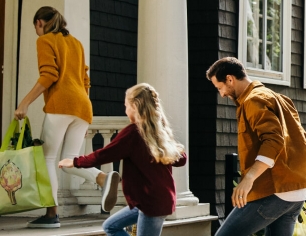 Quote homeowners insurance online or call for advice