Home insurance inspections
A home insurance inspection may be necessary to obtain or renew a homeowners insurance policy. Think of it as your insurance company doing their due diligence to help assess the risk of insuring your home. Home insurance inspections differ from a full home inspection you typically go through when buying a home. With a full inspection, potential homebuyers may have an inspector evaluate the property from top to bottom for safety and structural issues before deciding if they want to move forward with the purchase. Home insurance inspections, however, may not be as extensive and are completed on a case-by-case basis.
5 min to read
What is a home insurance inspection?
The insurance inspection could be as simple as a qualified inspector driving by your home and checking your property's exterior. Or, it could entail an in-person visit to your home, which typically takes place within a few weeks after your policy begins. You'll be covered under a tentative policy in the interim if your insurer makes any adjustments to the plan based on the inspection results. If an interior inspection is necessary, the inspector will concentrate on the electrical, plumbing, and HVAC systems. They may also check safety features such as smoke alarms, fire extinguishers, and anti-theft devices.
When is an inspection required for homeowners insurance?
Home insurance inspections aren't always essential and are done at your insurer's discretion. However, certain situations may make an insurance inspection necessary, such as:
You live in an older home
The insurer can't determine the replacement value of certain items
You haven't had an inspection in the past decade
How do you prepare for a home insurance inspection?
The insurance inspector may or may not give notice before arriving. If your home is in a gated community or considered high value (which requires an interior inspection), the inspector will give notice so you can let the inspector in. If you don't cooperate with the process, the insurance company can cancel your policy or opt not to renew it.
Here are steps you can take in preparation for a homeowners insurance inspection:
Basement: Look for cracks in the home foundation, and signs of mold, mildew, or water damage
Attic: Check for water damage and indications of insects or rodents
Roof: Remove debris, replace missing shingles, and examine chimney for cracks or missing bricks
Gutters: Clean out waste and make sure all units are securely attached
Doors and windows: Test locks on all doors and windows, and check that no seals are broken
Walls and ceilings: Examine for any cracks, stains, and water damage
Safety: Test all smoke and carbon monoxide detectors, and check expiration dates on fire extinguishers
Systems: Inspect and correct any outstanding plumbing, electrical, and HVAC issues
What does a home insurance inspector look for?
In addition to the critical areas — electrical, plumbing, roof and structure, and HVAC — the inspector may also search for any potential red flags that might increase your chances of filing a claim. This also applies to inspectors who perform full buyer inspections. At the highest level, your home's structure should be free of visible signs of damage, and any potential safety risks should be eliminated. The outside of your home is just as important as the structure itself. For instance, cracked steps or walkways could increase the chance of an injury on your property and a potential liability claim.
Typical details the home inspector may zero in on include:
Structural cracks
Rot or decay
Mold or mildew
Inadequate ventilation
The inspector may also verify items that can earn you discounts on your home insurance policy such as a home security system or if you live in a secure, gated community.
What can I expect after my home insurance inspection?
Once your insurance inspection is complete, your insurer will evaluate the results and determine whether any changes to your home insurance policy are required. Insurance underwriting inspections will result in one of three outcomes: your insurer will continue your policy as is, modify it, or cancel it.
Can my home insurance rate change after an inspection?
Your rate may change after insurance inspection results are evaluated. You may see an increase in your rate if your insurer discovers additional liabilities that weren't considered in the initial policy, home characteristics that differ from those listed on the application, or if the replacement value is higher than initially anticipated. On the other hand, if you made home improvements such as replacing a roof, your insurer may lower your rate.
Can my homeowners insurance be canceled after an inspection?
There's the possibility your insurance could be canceled if significant issues crop up, such as a safety hazard or a roof that needs replacement. In many instances, your insurance provider will allow you to fix the outstanding problems within a specified period.
However, if you don't provide proof that these issues have been remedied before the deadline, your insurer may decide to issue a notice of cancellation. That means your policy will be canceled on a specific date due to the outcome of your home insurance inspection.
What if my policy was canceled due to a failed inspection?
Being proactive before purchasing a homeowners insurance policy by knowing what to look for in a home inspection and addressing any potential issues up front can help avoid this. However, if your inspection fails, there are steps you can take to avoid having your policy lapse, such as making any repairs suggested by the inspector. It's possible to apply for another home insurance policy after your insurer has sent you a notice of cancellation or non-renewal due to a failed homeowners insurance inspection. Be sure to find another insurance company to continue the coverage before the policy is officially canceled, or you risk being uninsured for a period of time.
Keep in mind that any new insurer will likely want to conduct a home insurance inspection of their own. The same issues that caused your policy to be canceled are apt to resurface, so it's best to immediately address these problems.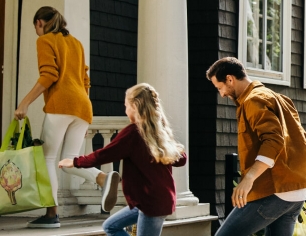 Quote homeowners insurance online or call for advice