What is a city inspection for a house?
While details can vary, a city inspection means a check performed by the local government to determine whether a property meets local codes, zoning laws, and other regulations. A city inspection can help a seller demonstrate that the house meets local regulations before a sale. You may also need to obtain a city inspection before renovating to ensure that the proposed work is allowed.
3 min to read
What are the benefits of a city home inspection?
Ensuring that a home is properly permitted and complies with zoning laws is important for both parties in a real estate transaction. Depending on the jurisdiction, sellers may need to have a city inspection on file to sign a sale contract and transfer the home's title. Buyers benefit because they have the peace of mind of knowing that they won't be fined for improper or illegal work on their new home.
What does a city inspector look for?
When performing a city house inspection, the city inspector will look for the following:
Violations of building codes and other regulations
New construction is properly permitted
House complies with zoning laws
House meets or exceeds the minimum setback distance (the distance required between house and property line)
Health and safety violations that could make the house dangerous to live in
In addition to looking at the house in person, a city inspector will look for records certifying that work performed on the house meets building codes and obtained the necessary permits.
What's the difference between a building inspector vs. home inspector?
A building inspector performs a variety of inspections, including a city inspection, and verifies that the home complies with all local regulations and has the necessary permits. Unlike a home inspector, a building inspector is a government official and may have the power to issue fines or even condemn a house deemed uninhabitable.
A home inspector is an employee of a private company with broad knowledge of building and construction. They perform a visual check of a home to identify problems that need — or will soon need — repair. They usually look at the exterior and interior of a house, checking for things like water damage, foundation problems, and problems with systems like plumbing, electrical, and HVAC. Buyers who want to be sure about the condition of the property they're considering often hire home inspectors. Learn more about how a home inspection works and what to look for when buying a home.
Sellers can request building inspectors to certify that the house is legally in order. Real estate contracts often require the seller to certify that any work on the home has the proper permits, and local laws may require a city inspection before the sale. When you propose a home renovation, a city inspector may also come to your house to check on work in progress and make sure that it meets code and matches the plan they approved.
Example:If a homeowner had a new deck put in before selling their house, a home inspector might look at the deck for potential structural issues, condition of the wood, and other factors related to the quality of the work. The building inspector would ensure that the builder properly filed the deck's construction permit with the city. They would also verify that the deck doesn't infringe on neighboring properties and that it meets other procedural and safety considerations.
What about a home insurance inspector?
A home insurance inspector will provide a visual inspection of your home, much like a private home inspector. However, the home insurance inspector is interested in potential insurance risks. Their assessment helps your homeowners insurance company determine rates. Unlike a home inspection — requested by the homeowner or potential buyer — the insurance company carries out an inspection to deem it acceptable to provide coverage. Learn more about home insurance inspections.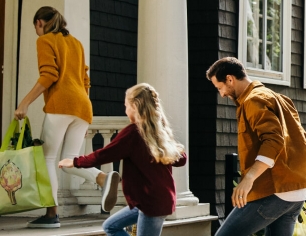 Quote homeowners insurance online or call for advice