What is a home inventory?
A home inventory is an itemized list of all your possessions meant to help you select the right amount of personal property coverage and potentially speed up a claim on your home, condo, or renters policy. Many insurance companies recommend creating a home inventory, so you have an updated record of everything you own.
5 min to read
What are the benefits of a home inventory?
A home inventory can ensure that you have enough personal property coverage, which is included on any home insurance, renters insurance, or condo insurance policy. For example, if the items on your home inventory list total $150,000, then you know the personal property coverage limit on your insurance policy needs to be at least that much.
A home inventory may also save time and stress when filing a claim. If your personal property is damaged or destroyed in a fire, robbery, or any other covered claim, a detailed list of what you lost will be an integral resource for you and your insurance adjuster.
If you're eligible for a tax break following a catastrophe, a home inventory list also makes it easier to itemize your losses for income tax purposes.
What should be included in a home inventory list?
Your home inventory list should be as detailed as possible, accounting for virtually every item in your household. From kitchen appliances and living room furniture to bedroom linens and all of the stuff in boxes stored in the basement or attic, your list should be comprehensive and include the following:
Item description, including the serial number if possible

Cost and date of purchase

Estimated value of the item if it needed to be replaced
How do you create a home inventory?
Taking a household inventory may feel like an overwhelming project, but here are some steps to simplify the process:
Decide on a method:

You can handwrite your home inventory worksheet or complete it digitally on your smartphone (both Android and iOS offer home inventory apps to catalog your items with a picture and description), tablet, or computer.

Start with valuables:

Off the top of your head, you likely know which items are most important to you or worth the most (jewelry, art and collectibles, appliances, furniture, antiques, electronics, etc.). Beginning with your major items will ensure that your expensive possessions are documented, even if you don't finish your full home inventory list.

Take a video:

If you don't have the time or patience to catalog all of your items, record a video of your possessions by walking through your home and zooming in on items and their serial numbers. A virtual home inventory can be helpful if you need to file a claim.

Discuss expensive items:

For certain valuables (such as jewelry, fine art, stamp collections, and firearms), talk to your insurer or insurance agent about adding an insurance rider (also known as "scheduling an item") to ensure adequate coverage.
Home inventory tips
Record detailed information: From recent purchases to older possessions, note the price, serial number, make and model, and when/where you bought the item, if possible.
Keep receipts: Save email receipts or keep digital photos of paper receipts as they become difficult to read over time. Many insurance companies advise customers to have two pieces of evidence (for example, a video and a receipt) when filing a claim. At ASI, one of the insurers in Progressive's network and part of our family of companies, proof-of-purchase receipts are requested. You may also need to provide serial numbers and/or photos.
Be specific with expensive items: Include a description for pricey possessions; the more detail you provide, the fewer headaches you'll encounter when filing a claim.
Use a home inventory spreadsheet: A spreadsheet, created with Microsoft Excel or a similar program, is an easy way to list your home's contents by serial number, date purchased, cost, etc. You can download a free home inventory template online or make your own if you aren't using an app that includes one.
Personal property calculator
Whether you're a homeowner, condo owner, or renter, you can create a personal property inventory list in order to itemize your belongings and calculate their total value. If you don't have receipts for every item or you're unsure of an item's value due to depreciation, use a depreciation calculator to better estimate its worth.
When filling out your worksheet, you can choose between listing your item's actual cash value (ACV) or replacement cost value (RCV). While most home insurers will cover personal property at actual cash value, you can often choose coverage at replacement cost value for an increased price. Check with your provider to find out how your belongings are covered.
Our personal property calculator can also help you determine how much personal property coverage you need on your policy. Remember to print a copy of your personal property inventory worksheet for your records.
Master bedroom
Bed, bed frame, mattress, linens, television, furniture, clothing, jewelry, desk, etc.
Additional bedroom(s)
Bed, bed frame, mattress, linens, television, furniture, clothing, wall shelves, etc.
Kitchen
Refrigerator, dishwasher, microwave, stove, silverware, coffeemaker, toaster, etc.
Living/Dining room
Dining room set, couch, chairs, coffee table, rugs, television, fireplace equipment, etc.
Bathroom(s)
Electrical items, linens, cabinet items, closet items, etc.
Laundry room
Washing machine, dryer, etc.
Den/Family room/Home office
Desk, chairs, furniture, lamps, bookshelves, computers, etc.
Basement/Rec room
Recliners, electronics, dehumidifier, bar, pool/ping pong table, etc.
Garage/Outdoor spaces
Tools, workbench, shed, patio/deck furniture, pool equipment, etc.
Attic/Hallways
Lamps, rugs, tables, luggage, etc.
Questions about insuring your property?
Speak with a representative or quote online
Call us at 1-866-749-7436 and talk to a licensed home insurance representative in your state. You can also compare rates for home insurance, including personal property coverage, with Progressive's HomeQuote Explorer tool.
Talk to a local agent
Prefer to speak with someone in your neighborhood? Connect with an independent agent near you.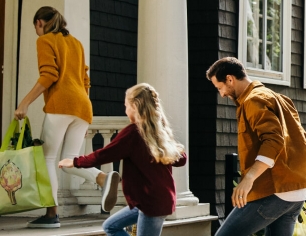 Quote homeowners insurance online or call for advice