How does insuring jewelry work?
You can get your jewelry insured in one of two ways: through your property insurance or through a specialized jewelry insurer. If you go through your home, condo, or renters insurance, you should "schedule" your jewelry (also known as adding a rider to your policy) to make sure the piece is covered for its appraised value. If you're on the fence about adding a rider to your property policy or getting separate jewelry insurance, consider quoting both options and comparing the coverages and rates you're offered.
4 min to read
Do I need to insure my jewelry or engagement ring?
If you don't insure your engagement ring or jewelry by adding an insurance rider to your property insurance or getting a standalone jewelry insurance policy, your valuable jewelry will likely only have limited coverage via your homeowners, renters, or condo insurance. Standard property insurance often has a sub-limit for jewelry, and coverage can be limited to certain types of losses. Adding a rider or getting a standalone insurance policy can allow the full value of your piece to be covered for a variety of loss types.
What are the ways I can insure an engagement ring or jewelry?
Add a rider
While standard homeowners insurance, renters insurance, and condo insurance may cover your jewelry for certain losses up to a sub-limit, adding a rider can make sure your engagement ring or other valuable jewelry is covered up to its appraised value. This process typically requires providing a recent receipt or appraisal and photos of the jewelry, depending on the item and insurer.
Learn more about what your coverage entails
Your property insurance premium may go up when you schedule jewelry, but knowing your jewelry has "open peril coverage" (coverage for all perils except any that are specifically excluded) can be worth it. Plus, there's typically no deductible if you make a claim after you schedule your jewelry.
Determine what's best for your scenario
If you'd like to insure more than one piece of jewelry, find out if you should schedule each piece separately or get blanket scheduled jewelry coverage.
Do I need separate jewelry insurance?
That depends on your preferences and what you find out when you shop around. Insuring your jewelry through a standalone jewelry insurance policy gives you access to specialized jewelry insurers, and making a claim wouldn't cause your overall property insurance premium to go up. Coverage may vary between a separate jewelry insurance policy and adding a property insurance rider, so consider quoting both options and closely comparing the terms and prices.
How much does jewelry insurance cost?
Progressive's jewelry insurance through Lavalier starts at $68 per year, and it typically only costs 1–2% of your jewelry's value. If you'll be scheduling jewelry through your property insurance, your overall policy cost will typically go up based on the value of the piece and depending on your insurer.
What does jewelry insurance cover?
Jewelry coverage usually includes theft, loss, and disappearance up to your policy or rider limit. Lavalier has "all risk" coverage, which also includes damage. Through Lavalier, your insured pieces will be covered anywhere in the world. Be sure to check the specific terms of your policy or rider to understand the exact coverage.
What types of jewelry can I insure?
You can typically get jewelry insurance for any valuable piece that can be appraised — engagement rings, wedding rings, diamond rings, necklaces, bracelets, and more. There may be a limit on the total amount you can insure, so ask about insurance policy limits before purchasing insurance for multiple high-value items.
Note: Through Lavalier, watches may not be able to be covered by a standalone policy. They can be considered for coverage via policies that include other pieces or via a property insurance rider.
Is an engagement ring insured when I give it to my fiancé or fiancée?
As long as the person who receives the engagement ring is listed on the insurance policy, the ring will be insured. When you purchase coverage, be sure to provide both your name and the recipient's name. If you choose to cover the ring via a rider on your property insurance policy, the recipient's name must be on the policy — if it's not (e.g., if you don't live together), your fiancé or fiancée will need to get coverage for the engagement ring themselves.
How to get coverage for your jewelry
Via property insurance
Current Progressive customers: Call 1-866-749-7436 to provide details about your jewelry piece(s) to a representative. An appraisal may be required, as well as color photos for pieces over a certain dollar amount.
Non Progressive customers: Get a homeowners insurance quote and add your jewelry piece(s). An appraisal and color photos may be required.
Via jewelry insurance
Get a quote for jewelry insurance online, or call 1-866-258-8690 to speak with a licensed representative.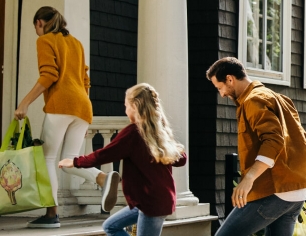 Quote homeowners insurance online or call for advice