Does home insurance cover water damage from leaking plumbing?
Your homeowners insurance typically covers losses resulting from sudden and accidental damage. For example, a pipe bursting unexpectedly. However, it won't cover slow, constant leaks or other problems resulting from neglect or improper maintenance.
3 min to read
What does homeowners insurance cover for plumbing-related issues?
Your homeowners insurance may cover sudden and accidental losses when the damage is caused by your plumbing. This can include walls, floors, carpeting, furnishings, and electronic equipment. Your homeowners policy may cover mold and mildew cleanup in this scenario as well.
If the damage is caused by someone else — such as a neighbor's plumbing spilling onto your property or a contractor causing water damage by incorrectly installing a washing machine — their insurance may be responsible for covering the cost of repairs. However, you may have to initially pay out of pocket until the claims process is completed. You should then get reimbursed by the neighbor's or the contractor's insurance.
Which plumbing problems aren't covered by homeowners insurance?
Wear and tear: As a homeowner, you're responsible for everyday wear and tear on your pipes. If you suffer damage due to improper maintenance, such as failing to fix a pipe you know is leaking, your insurer could deny your claim.
Negligence: Suppose you go away on vacation during a cold spell and shut off your heat. If a pipe freezes and bursts while you're away, your insurer may declare this to be a negligent act for failing to take necessary precautions and deny your claim. Frozen pipes are a common occurrence, but you must take appropriate steps to prevent a loss from occurring.
Sewer backups: Most homeowners insurance policies also won't cover sewage backup. Ask your insurer about optional coverages that can protect against sewage backups and sump pump failures.
Flooding: Homeowners insurance may cover you for water damage caused by failed plumbing, but it doesn't cover flood damage caused by excess rainfall. If you live in a high-risk flood area, you should discuss your options to invest in a separate flood insurance policy with your agent or carrier.
How does home insurance cover plumbing damage?
Plumbing damage and related expenses are covered under a few different homeowners insurance coverages:
How can you reduce the risk of plumbing problems?
There are proactive steps you can take to reduce the risk of major plumbing problems:
Have your pipes inspected annually: A professional plumber can determine whether any pipes have damage or where a leak is likely to occur and repair a potential problem before it starts. A plumber can also tell you whether your pipes need replacements. Many homes built from the late 1970s through the 1990s have polybutylene piping, which is known for being faulty and would likely need to be replaced.
Invest in a water monitor: These devices attach to the pipes in your home and can alert you to drops in water pressure, which often signal a leak somewhere within the home. If caught early, leaks may be easier to repair.
Ensure your pipes are properly insulated: This is especially important if you live in an older home and in a colder climate.
Be careful what you flush: This simple step can avoid clogs in your plumbing system that could lead to costly sewage issues.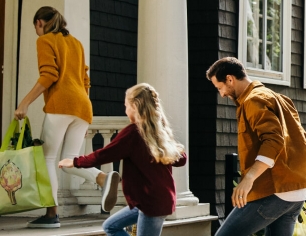 Quote homeowners insurance online or call for advice