Does homeowners insurance cover sewer line damage?
Homeowners insurance may provide coverage for sewer line damage from common causes, assuming you added an endorsement to your policy. Without an endorsement, your insurer may still help cover the cost of the repairs, up to your policy's limits, if the line is located on your property and the damage occurs sudden and accidentally. A standard homeowners policy may also pay to repair the actual sewer line if a covered peril caused the damage.
4 min to read
How do sewer line endorsements work?
A sewer line endorsement (also known as buried utility lines coverage) may cover damage not only to your underground pipes, but to other underground wires around your home. Even a small break in a sewage line may cost hundreds or thousands of dollars to repair and may require the excavation of a lot of dirt. Your yard may need to be dug up and then backfilled once the repairs are completed. Sewer line coverage may cover locating and repairing a line (including damaged seals), plus the costs of excavation, fusing, welding, and cutting.
Coverage limits on a sewer line endorsement or "buried utility line endorsement," as well as what's covered, will vary by insurer. The endorsement may protect against common types of damage to sewer lines and associated costs, such as:
Deterioration or decay
Excavation and backfill costs
Pipe replacement and repair
Reseeding the lawn
The cost of an endorsement varies by insurer, but is usually fairly affordable.
Does homeowners insurance cover your sewer line if it's damaged?
Damage to your sewer line may be covered by your policy if it is caused by perils such as hail or windstorms, explosions, lightning or fire, damages caused by vehicles, vandalism or falling objects. Assuming the sewer line is on your property, it may fall under the other structures coverage listed on your homeowners policy; this limit is typically 10% of the insured value of your home but may vary by insurer. However, in most cases, damage to the sewer line is caused by something excluded from standard homeowners insurance. For example, if the pipe damage is attributed to faulty construction or poor upkeep, repairs usually won't be covered. Damages resulting from floods, pests, earthquakes, or tree roots are typically also excluded.
Are tree roots in a sewer line covered by insurance?
Not usually. While insurance may help cover damage to your property caused by tree roots, it generally won't cover costs associated specifically with the sewer lines. For example, if water released from the cracked line causes damage to your property, your insurance may cover the cost to repair damage caused by the water but not to repair the pipe.
Can I get sewer back-up coverage?
Many homeowners insurance companies offer sewage backup endorsements (also known as water back-up and sump discharge or overflow endorsements), but this type of endorsement only covers damage caused by sewer backups — not physical damage to the sewer lines. A sewage backup endorsement may cover the cost of replacing your floor and possessions that are damaged from the sewer back-up. Learn more about how home insurance covers water damage and water back-up and sewage overflow.
Does homeowners insurance cover septic tanks?
Dwelling coverage on your homeowners policy may cover damage to your septic system if it's caused by a sudden and accidental event. If the issue is due to preventable factors, like neglect or lack of maintenance, however, you usually won't be covered.
How to get sewer line coverage
Online
Compare and customize your coverages and limits when you quote online.
Quote homeowners insurance online
Call a rep
Talk to a licensed representative who can help you quote home insurance.
Call 1-866-749-7436
Through an agent
Connect with a licensed independent agent in your neighborhood.
Find an agent online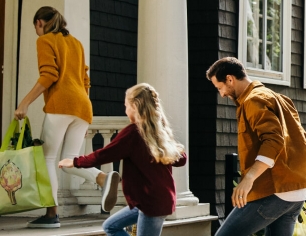 Quote homeowners insurance online or call for advice