Does homeowners insurance cover damage to siding?
A typical homeowners policy's dwelling coverage may pay for damage from a covered peril to your home's structure and anything permanently attached to it, including damaged siding, up to your policy's limits and minus your deductible. Consult the terms of your policy to understand which perils are covered and whether your damaged siding would be covered for replacement cost or actual cash value.
2 min to read
Getting siding replaced by insurance
Extreme weather is one of the most common causes of siding damage, like siding being ripped by strong winds. Your homeowners insurance policy may cover incidents connected to extreme weather or storm damage if they're covered perils on your policy. Your policy may also cover damaged siding resulting from perils that aren't weather-related, like:
Vandalism and malicious mischief
Fire and smoke
Damage from aircraft
Damage from vehicles
When is siding not covered under my homeowners insurance?
Like any other part of your home, siding isn't protected by home insurance against everyday wear and tear. If your siding has simply degraded over time or if damage results from a lack of proper maintenance, you're responsible for the repair or replacement costs. Home insurance likely won't pay for things like purely cosmetic replacements to repair siding damage or damage already present when you bought the insurance or the home.
How does a siding damage insurance claim work?
Your claims adjuster may ask you questions about the damage to learn more about it. Keep in mind, if the siding damage is minor, you may consider getting an estimate before formally filing a claim. If the repairs cost less than your policy's deductible, it may not be worth filing a claim.
How to get dwelling coverage for your home's structure
Go online
We'll ask simple questions about your property, then you can customize your coverages and start date.
Get a homeowners insurance quote
Call us
Speak with a licensed homeowners representative who can guide you through your quote.
Call 1-866-749-7436
Ask an agent
We'll connect you with a licensed independent agent near you.
Find an agent online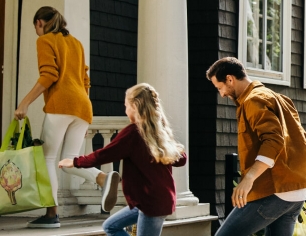 Quote homeowners insurance online or call for advice