How to prepare for closing on a house
Closing on a home involves paying closing costs and taking care of a few final arrangements before the entire deal is done. Being ready to move forward with closing can save you some headaches and speed the process along.
2 min to read
How long does closing take?
The amount of time it takes to close on a home will vary, depending on certain variables. The house closing process consists of several parts. It may take several days or weeks to negotiate the contract while you counter-offer the seller's offer, and then you'll need to schedule the home inspection and finalize the purchase agreement and your mortgage application.
Before you receive final approval for the loan, your mortgage company will likely also request its own appraisal that can take around a week. If your home has repairs the seller agrees to make, closing may take longer.
What to expect one week before closing
You're usually entitled to a walkthrough 24 hours before closing. During this walkthrough, you can do a final check of the house, ensuring every agreed-upon repair has been completed and that the previous homeowner has completely cleared out of the home. This walkthrough is an important step that you should take, as any last-minute repairs can be identified and addressed.
You can use this week to gather all relevant paperwork and closing costs you'll need before closing on a home. When you arrive to finalize the deal, you'll provide proof of your homeowners insurance and present your home inspection, photo ID, and any other necessary paperwork.
Home closing checklist
The home closing process involves several steps:
Make an offer on the home and respond to counteroffers
Prepare any contingencies, such as deal-breakers within the home or issues with the inspection, appraisal, or funding
Perform a title search
Finalize mortgage approval
Review your settlement statement
Secure homeowners insurance
Perform a final walkthrough
Once you sit down at the table to sign the paperwork and finalize everything, expect to spend around two hours there and bring the following:
Government identification (driver's license, etc.)
Check for a down payment
Proof of insurance
Sales contract
Most importantly, don't do anything in the final stages of buying a home that may affect your credit score. Don't open new credit cards or take out another loan.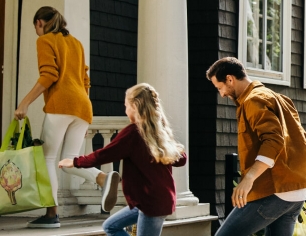 Quote homeowners insurance online or call for advice