What is dwelling replacement cost in home insurance?
Dwelling replacement cost is the amount of dwelling coverage needed on your homeowners policy to repair or rebuild your home's structure due to damage from a covered peril. Most home insurers use replacement cost value (RCV) to calculate your dwelling coverage limit rather than market value or actual cash value (ACV), which factors in depreciation. Replacement cost value on your dwelling coverage helps return your home to the condition it was in before the loss occurred.
3 min to read
Replacement cost value vs. market value and actual cash value
Replacement cost value is the amount it costs to rebuild your home from scratch, including the price of labor and materials, in the event of a covered loss.
Actual cash value is determined by taking your property's replacement cost value, and then factoring in depreciation. Most home insurers offer replacement cost value for dwelling coverage since an actual cash value limit may not provide enough coverage to rebuild your home.
Market value means the amount you could get for your property if you sold it today. That includes the value of the land on which your home is built. It's also influenced by factors that have nothing to do with the cost to rebuild, such as supply and demand of homes for sale, the neighborhood, and broader economic conditions. For example, if you live in an area where homes frequently sell above list price, the market value of your home could be much higher than what it would cost to rebuild it. Understand that the cost to replace your home may differ greatly from its expected market value.
What if the cost to rebuild is more than my policy's dwelling coverage limit?
Suppose there was a catastrophic storm in your area. When many homes are being repaired and rebuilt simultaneously, the cost for labor and materials can rise, which means your dwelling coverage amount may not be enough to rebuild your home to its pre-loss condition. For an additional cost, many insurers offer extended replacement or guaranteed replacement cost coverage, which may pay for repairs that exceed your policy's limit. Extended replacement cost coverage typically pays for repairs that are 10% to 50% above your policy's limit, depending on your insurer.
Guaranteed replacement cost coverage may pay the entire bill, which is also dependent on your insurer.
Estimating the replacement cost of your home
Your insurer will calculate your home's replacement cost value by asking you about the details of your home, including age, location, style, flooring, and features like vaulted ceilings, built-in cabinetry, or crown moldings. They'll combine the information you provide with data about comparable properties in your area and the average cost of labor and materials where you live.
Of course, your home's replacement cost value is always changing with market conditions and improvements you've made. If you're in an area where contractors charge top dollar, rebuilding expenses will be higher. Upgrades to your home, particularly ones that are labor-intensive to repair or replace, take more time to rebuild and therefore cost more. If you've recently completed upgrades to your home, contact your insurer to make sure your dwelling coverage limit is still accurate.
If you're trying to estimate replacement cost value, a general formula for calculating your home's replacement cost is:
Square footage of your home x square foot cost to rebuild a home in your area
If you're wondering if you have enough coverage, call Progressive at 1-866-749-7436 and we can help estimate your home's replacement cost value. Your home insurer will have a better idea of what it costs to rebuild a home in your area than you would trying to calculate the amount on your own.
How much does it typically cost to build a home?
According to HomeAdvisor, the average cost to build a house ranges between $120,698 and $452,779. For a 2,000 square foot home, that breaks down to $60.35 and $226.39 per square foot. Per HomeAdvisor, luxury homes can cost up to $500 per square foot. HomeAdvisor can calculate the average rebuild cost and typical range in your state with your ZIP code.
Example:Your 2,500 square foot home is destroyed in a fire. In your area, the cost to rebuild per square foot is $175. Assuming your dwelling coverage limit on your homeowners policy is $450,000 and your deductible is $1,000, your insurer may pay $436,500 to rebuild your home.
Get a quote for home insurance
Online
Compare and customize your coverages and limits when you quote online.
Quote homeowners insurance online
Call a rep
Talk to a licensed representative who can help you quote home insurance.
Call 1-866-749-7436
Through an agent
Connect with a licensed independent agent in your neighborhood.
Find an agent online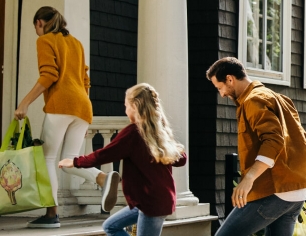 Quote homeowners insurance online or call for advice