Ways to prepare your home for a hurricane
It's no secret that hurricanes and tropical storms may cause severe damage to your home's structure and your personal property. Although coastal areas are most susceptible to hurricanes, they can also move inland and create issues for homeowners in their paths. Before a storm hits, be sure to take steps to prepare your house for a hurricane and help limit your losses.
2 min to read
Things you can do before a hurricane arrives
Depending on the type of home you own and its surroundings, some of the steps you may want to take when preparing your home for a hurricane — particularly when a storm is already developing —include:
Protect doors and windows. Installing storm shutters or plywood over windows and doors may help limit storm damage.
Secure loose objects. A hurricane's strong winds can send objects flying at high speeds. If an outdoor object isn't anchored in some way, it should be brought indoors or stored securely in some manner to prevent damage.
Fill tubs and freeze bags of water. A big storm can knock out your water supply. Filling tubs with water ensures you'll be able to flush toilets after the storm. Another good idea is to fill quart-size bags with water and freeze them. It will keep your perishables cold for a while if you lose power and provide safe drinking water.
Make an emergency kit. Pack a waterproof tote with things like your insurance papers, medicines, and other personal items like a first aid kit, flashlights, batteries, water, nonperishable foods, and so forth. You may also want to gather wrenches (to turn off broken gas or water utility lines), fire extinguishers, and a hand-cranked radio in case you lose power and cell phone service.
Understand how home insurance covers damage from a hurricane
Homeowners policies often cover damage from windstorms, including hurricanes. However, your homeowners insurance policy may have a separate deductible related to hurricane damage. The amount of your "hurricane deductible" may be higher than the standard home insurance deductible on your policy and could even be a percentage of one of your coverage limits, instead of a flat dollar amount.
Note that not all homeowners policies will cover damage from hurricanes, especially if your home is in an area at risk for windstorms. Consult with your insurer to find out if windstorms, including hurricanes, are a covered peril on your policy. Learn more about how home insurance covers hurricanes.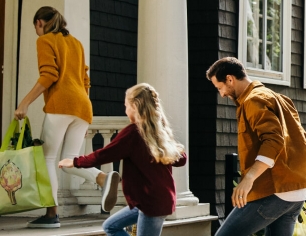 Quote homeowners insurance online or call for advice