Can a minor be your life insurance beneficiary?
When you purchase a life insurance policy, you can choose your child or children when you're asked to name beneficiaries who can receive the payout when you pass away. However, there are some legal implications when naming a minor beneficiary. Consider options like setting up a life insurance trust or instead naming an adult who will be caring for your child.
3 min to read
Why do people leave life insurance to their children?
Naming your child as a life insurance beneficiary can be a way to leave a safety net behind. Children have many expenses growing up, from basic needs like food, clothing, and childcare costs to educational expenses and extracurricular activities. The death benefit from your policy could potentially help with these costs. But if your children are minors, it can be more complicated to name them as a beneficiary than if they were adults.
Until your children are adults, to avoid the legal implications of naming a minor as your beneficiary, you could instead name your spouse, partner, or other potential caregivers. If something were to happen to you, this could enable those who would be caring for your children to use your death benefit as they see fit. Once your children are adults, you can add them as primary or contingent beneficiaries without the legal implications of naming a minor beneficiary.
Insurance companies can't give life insurance payouts directly to minor children. Any payout might be held up until a court-appointed custodian is brought in to oversee the funds, delaying payments to your family. Naming a trust as the beneficiary instead can head off unnecessary complications to your estate plan and allow your wishes to be acted upon.
How can I leave my life insurance to a minor child?
It's possible to leave your life insurance death benefit to a minor child, but you'll need to take some extra steps to ensure the payout process isn't held up in court or unnecessarily complicated. One way to provide for a minor child with your life insurance benefit is to place it in a trust managed by a custodian of your choice. It might also be possible to designate your death benefit for uses that benefit your minor child. Speaking with legal and financial advisors can help you determine the best choice for your family.
What is a life insurance trust?
A life insurance trust is a legal entity that holds assets that are managed and distributed by a designated trustee. When the insured person dies, the trustee administers the trust on behalf of the beneficiary or beneficiaries. You can establish a life insurance trust for the benefit of a minor child. In this scenario, you choose the trustee — a trusted relative, partner, friend, legal representative, or other adult — and set the terms for managing the funds on behalf of your child until they turn 18 or 21, depending on your state. The trust (rather than the child) is listed as the beneficiary, and the trustee routes the money to your child per your wishes and guidelines.
How to get life insurance through Progressive
Online
You'll be asked questions, and then you'll choose your coverage amount and more.
Get a life insurance quote
Call a rep
A licensed representative from Progressive Life by eFinancial will talk you through your options.
Call 1-866-912-2477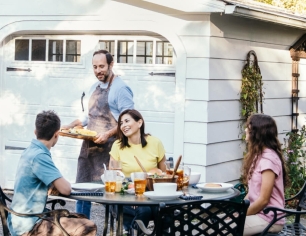 Get a free life insurance quote online in minutes