What is mortgage insurance?
Private mortgage insurance (PMI) protects your lender if you're unable to pay your mortgage loan. The cost of mortgage insurance is included in your mortgage payment for various loan types.
3 min to read
What does mortgage insurance cover?
Private mortgage insurance is insurance for the mortgage lender and won't cover your home in any way. Lenders view a mortgage loan with a smaller down payment as a riskier investment, and mortgage insurance provides a safeguard for the lender if you default on the loan. Because PMI protects the lender only, your lender gets to select the company that will provide mortgage insurance.
Learn more about the difference between mortgage insurance vs. homeowners insurance.
How much is PMI and how do PMI payments work?
PMI costs vary, depending on your loan type, but plan to pay between 1% and 3% of your home's purchase price. PMI is often included in your mortgage payment. You may choose to pay PMI in one lump sum at the start of your loan.
When do you have to pay PMI?
PMI is usually required as a condition of conventional mortgage loans if your down payment is less than 20%. For example, if the price of your new home is $200,000 and you're only able to pay $7,000 up front, then you may pay PMI because your down payment is only 3.5% of your home's purchase price. But if your down payment is greater then 20% of the purchase price, then you won't typically have PMI.
How to avoid PMI
Mortgage insurance covers your lender, not you. That makes it an expense you'll want to avoid, if possible. Below are a few ways you can avoid PMI, if you're able.
Put 20% or more down
If you have a conventional loan, you may not have to pay PMI with a down payment of at least one-fifth of the home's purchase price.
Take a second mortgage
Often referred to as "piggybacking," you can cap your first mortgage at 80% of your home's value and use a second mortgage to finance the rest. Lenders usually require a down payment of at least 10% for this option.
Choose a government-insured loan
If you're eligible for a VA loan, backed by the U.S. Department of Veteran Affairs, mortgage insurance isn't required. Same goes for USDA loans (United States Department of Agriculture). Keep in mind, FHA loans require mortgage insurance.
Cancel mortgage insurance when possible
Stay up to do date with your home's market value and monitor your mortgage balance. Once the balance of your loan falls below 80% of your home's value or purchase price, consider refinancing or contact your lender about eliminating PMI.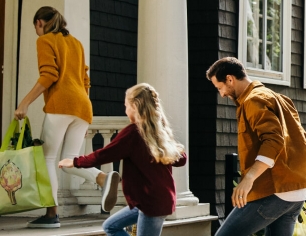 Quote homeowners insurance online or call for advice