Renters insurance for college students
Whether you live in a dorm room or off-campus in an apartment, renters insurance may provide coverage for college students. Your personal belongings such as laptops, tablets, gaming consoles, clothing, books, furniture, and bicycles may be covered under your renters policy if the loss is due to a covered peril, such as theft. A renters insurance policy also provides coverage for liability claims as well as additional living expenses if you're unable to live in your dorm or apartment due to a covered loss.
4 min to read
Do college students need renters insurance for dorm rooms?
While renters insurance might be optional for college students living in dorms, your college or university typically isn't responsible for your personal belongings if they're stolen from your dorm room. Renters insurance is generally affordable and may provide protection and peace of mind for students concerned about replacing stolen items.
If you choose not to carry renters insurance on campus, you may still be covered under your parents' home insurance. Home insurance policies typically extend a sub-limit of the limit for personal property coverage — for instance, 10% or $1,000, whichever is greater — for belongings away at school. College students may also have access to personal liability coverage under their parents' home insurance, up to the policy's limits.
Example:Suppose your parents have $100,000 in contents coverage on their home insurance policy. If you're a college student living in a dorm room, you may be covered up to $10,000 for your own belongings, depending on your policy. Keep in mind, special limits may apply for certain items such as jewelry or electronics.
Do students need renters insurance for off-campus apartments?
If you're renting an apartment or home off-campus, your landlord may require you to carry renters insurance. Students living off-campus may be covered under their parents' homeowners insurance, but check your parents' policy to be sure. You may need your own renters policy to cover your belongings and protect yourself if you're liable for someone's injuries or property damage.
Does each tenant need renters insurance?
Renters insurance is never required by law and typically isn't mandated by your college or university if you're living in a dorm. However, it's possible that an off-campus landlord may require each tenant to purchase their own renters insurance policy. Depending on your state and insurer, you may be able to list your roommate on your renters insurance policy for an additional cost. However, if you're sharing a policy, filing a claim could be complicated when it comes to shared items or property in the rental home. Moreover, it may be difficult to accurately split the cost of a renters insurance policy if you have more belongings to protect than your roommate, or vice versa.
FAQs about renters insurance for college students
Can renters insurance cover students responsible for injuries or damages?
If a guest was injured at your apartment or their property was damaged and you're liable, personal liability coverage on your renters insurance policy may pay for injuries and damages up to your policy's limits.
Is renters insurance offered by colleges and universities?
Renters policies generally aren't offered by colleges or universities. If you're looking for the best renters insurance for college students, explore a policy from a reputable insurance company customized to protect your personal property and valuables.
Does renters insurance cover bicycles?
Renters insurance may cover a bicycle kept on or off-campus if stolen or damaged by a covered peril. Depending on your insurer, you may need to list or "schedule" your bike as an add-on item to your policy.
Learn more about insuring your bicycle.
What doesn't renters insurance cover for college students?
Renters insurance won't cover damage to your building, which falls under your landlord's insurance if you live off-campus or the college's insurance if you live in any type of housing owned by the university. Wear and tear to your belongings also isn't covered by your renters policy.
While your renters policy may cover personal belongings in your car, any damage to the vehicle itself would be covered by your auto insurance policy.
How to get renters insurance for your dorm or college apartment
Online
Answer some questions about your property and then customize your coverages.
Get a renters insurance quote
Call a rep
Speak with a licensed representative who can guide you through the process.
Call 1-866-749-7436
Through an agent
Connect with an independent agent near you.
Find an agent online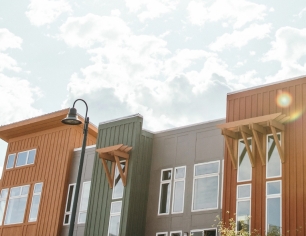 Get a renters insurance quote online or call for advice