Should I buy an SUV or a sedan?
With hundreds of different models of vehicles, it can feel like a major task to decide which car to purchase, especially if you're choosing between a sporty sedan or spacious SUV. Ease your worries about the car buying process by determining what's important during your driving experience. Both SUVs and sedans have advantages, so it's best to do your research to decide which features are most important to you.
4 min to read
Sedan vs. SUV: Are SUVs safer than sedans?
Most people assume SUVs are safer — both the size and weight of an SUV play a crucial role in reducing collision fatalities. But sedans and SUVs are equally equipped with life-saving crash protection features, and many sedans have excellent safety ratings.
SUVs are designed with extra space, reducing the risk of injury in a head-on collision. A recent crash test by the Insurance Institute for Highway Safety (IIHS) found that passengers of heavier, larger vehicles experience less force during an accident. Keep in mind that your driving habits are a key player in your safety while on the road. But a sedan can be just as safe as an SUV. Smaller vehicles now come with optional safety features such as airbags, anti-lock brakes, traction control, and collision prevention, which can also reduce the risk of injury in a collision.
Pro tip:
When selecting a new car, consider both the environment and climate where you drive most often. If you live in a colder climate, an SUV with all-wheel drive (AWD) is typically best for driving on icy roads. Though it's a newer feature for smaller cars, several sedans on the market also come with AWD.
Sedan vs. SUV: Which drives better?
Traditionally, smaller cars are easier to maneuver around the city, while SUVs can better navigate icy and wet roads. If most of your commute is on small roads in the city, a sleeker sedan could be more appealing.
Would you prefer more control on the road? The height and design of an SUV allow you to see the road ahead, giving you a better sense of control. Generally, an SUV provides more room and comfort than a sedan when it comes to long drives. If you like going off-road, most SUVs can be equipped with an AWD or FWD option. Be sure to research the specific SUV you're thinking before assuming you can offroad – not all SUVs are designed for all conditions.
Sedan vs. SUV: Which is more comfortable?
Comfort depends on what you need. Most SUVs have the advantage of more space for both passengers and cargo. But compact SUVs can fit about the same amount of cargo and passengers as a sedan, including five passengers and multiple bags of luggage.
So if it's cargo space you need, a full-size SUV might be the better choice. Most come with third-row seating so that you can fit seven or eight people plus their luggage.
Sedan vs. SUV: Which is more affordable?
Approximately 59% of car buyers use their time researching car prices to get the best deal for their budget, making affordability a big factor when deciding which car to take home. Car insurance rates can also be an affordability factor. Before deciding on an SUV or sedan, talk to your insurance agent to see the difference in rates.
Sedan vs. SUV: Which gets better gas mileage?
While large SUVs can carry more people, they have bigger tanks with fewer miles per gallon. Consider a sedan or a small crossover if gas mileage and fuel economy is important to you. Learn more about how car mileage impacts insurance.
Sedan vs. SUV: Which is right for you?
Most SUVs and sedans are designed with comparable features, so it's all about the driver's needs. Ask yourself a few important questions to help you decide on a SUV or sedan:
Will I use this vehicle for off-roading or towing?
Will I drive this vehicle mainly in the city or on tighter roads?
Am I more comfortable with the height and control of an SUV?
Do I need more space for cargo?
Are the safety features updated?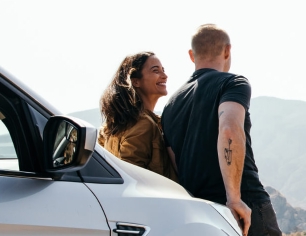 Quote car insurance online or give us a call