Will homeowners insurance cover a civil lawsuit?
Personal liability coverage on your homeowners insurance policy may pay for a lawsuit brought against you from a covered claim that results in bodily injury or property damage, up to the limits of your policy.
3 min to read
How your homeowners insurance policy may cover lawsuits
Your personal liability coverage may include civil lawsuits, but the lawsuit must be related to a covered claim. For example, suppose a guest slips and falls on your ice-covered walkway and decides to sue. If you're liable, your personal liability coverage may pay for the damages and provide you with a defense for the lawsuit, up to your policy's limits.
Medical payments coverage can pay small injury claims due to an accident at your home that injures a guest. Medical payments coverage usually ranges from $1,000 to $5,000 and it may cover an injured guest's medical expenses regardless of who is at fault. These payments will not cover legal expenses.
Examples of injuries that could result in a lawsuit
Accidents at home are quite common. If a guest sustains an injury in your home, they could file a lawsuit against you. Here are a few examples of injuries that could result in a lawsuit:
Overserved guest: If a guest leaves your home drunk, gets into an accident, and injures themselves or others.
Trips and falls: A snow-covered sidewalk, cracked driveway, or a loose railing can often result in a fall and cause an injury.
Swimming pool or trampoline injuries: If a guest sustains an injury while using your swimming pool or trampoline they might sue.
Dog bites: Injuries resulting from a dog bite may be covered, depending on your insurer. Some insurers won't cover dog bites or exclude certain breeds.
Learn more about how home insurance covers swimming pools and may cover injuries from dog bites.
Personal liability limits
Your personal liability coverage may provide you with protection, but only up to the limits of liability listed on your policy. It's important to remember that the cost for the remaining damages will be your responsibility once you've reached your coverage limits. If your personal liability coverage limit is $500,000, and a settlement totals $550,000, you will likely have to cover $50,000 out of pocket. If you have assets exceeding $500,000, consider a separate umbrella policy for additional liability coverage.
Injury or legal claims that may be excluded
Some medical and legal expenses can be excluded from homeowners insurance coverages. For example, homeowners insurance policies typically exclude intentional acts, so if you deliberately push someone down the stairs at your home, your insurance likely won't cover their medical bills or any legal costs if they decide to sue you. The same is true for property damage. If you intentionally break your neighbor's property, you'll likely have to cover the cost to repair or replace it.
Bodily injury or property damage in connection with running a business out of your home is typically excluded as well. For example, if you make and sell baked goods out of your home and accidentally give a client food poisoning, your homeowners policy may not cover any medical or legal costs related to the incident if they decide to sue you. Other exclusions may apply, so read your policy in full to make sure you are aware of all coverage exclusions.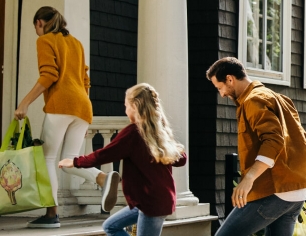 Quote homeowners insurance online or call for advice