What to do if you damage a road sign
Damaging or hitting a stop sign or other road sign with your car is considered a single-vehicle accident. By law, the person responsible for running into a sign must report it to local authorities right away or face potentially serious consequences. Depending on your coverage, auto insurance could help pay for sign replacement costs.
4 min to read
What should you do if you hit a stop sign or road sign?
If you hit a stop sign or road sign with your car, contact the local government agency responsible for the road to report the damage immediately. If you're unsure who to contact, call the local non-emergency law enforcement number. Call 911 if you or someone else is injured or for a downed stop sign or other sign that's important for road safety. The dispatcher should be able to help direct you with the next appropriate steps.
Be sure to take photos of the sign, the surrounding area, and your vehicle to document the collision. If you don't have a phone or can't get cell service, find the closest place to make the call. When you report the collision, a law enforcement officer might ask you to return to the sign location or go to the police station.
How much is the fine for hitting a stop sign?
The legal consequences when a car hits a road sign depend on the circumstances. If you were distracted or driving on ice when it happened, you could be subject to a failure to control violation. Fines for this type of violation will vary based on your state and municipality. Reckless driving charges from deliberately ignoring traffic rules could result in consequences such as higher fines, a suspended license, and even jail time.
What happens if I don't report it?
Leaving the scene without reporting it is illegal. You could face hit-and-run charges. Even if no one was injured, some states may impose higher fines and even jail time for these misdemeanor offenses. States lose valuable tax dollars on public property repairs, so some have started programs to track down drivers who fled to send invoices for the damage. In Indiana, the DamageWise program has an 81% collection success rate.
Is car damage from hitting a sign covered by insurance?
Yes, but only if you have collision coverage. This coverage is optional, but it can cover you if you hit an object such as a stop sign, road sign, telephone pole, pothole, mailbox, or guardrail. Even a small scrape from the sign would count as a collision. Filing an auto insurance claim for sign damage would only be worth doing if the repair costs are higher than your deductible. Comprehensive coverage doesn't cover collision with a sign.
Will insurance cover the sign?
Collision insurance would only cover the costs to repair or replace your vehicle after you hit the sign once you've met the deductible. Most states require drivers to have property damage (PD) liability insurance. Since the sign is public property, the PD portion of your liability insurance might cover the replacement cost depending on the insurance amount you carry.
Is it always necessary to file an insurance claim for sign damage?
Single-car accidents don't normally require that you file an auto insurance claim. Unless another vehicle caused you to hit the sign, your insurer considers hitting the sign a single-car accident where you're at fault. Paying for the repair yourself, especially if the cost is lower than your car insurance deductible, could end up saving you money later. Filing a claim for an accident where you're at fault could increase your car insurance rates in the future.
How much does a stop sign cost to replace?
The full cost for a sign replacement typically includes the sign itself plus the labor to complete the work. On average, stop signs can range from $25 to $150 apiece, but hourly labor costs could increase the total to $500 or more. The timing makes a difference, too. Local government officials try to fix a damaged stop sign right away to prevent future accidents. If the municipality replaces the sign at night, the hourly rate might be even higher.
Road signs can cost a few hundred to thousands of dollars, depending on several factors. A sign mounted above the highway could cost thousands of dollars. In Delaware, one sign replacement cost $10,000 because the state had to hire a crane and send crews to close traffic lanes.
Stay covered with car insurance from Progressive
Get an auto insurance quote online and we'll help you figure out the best coverage for your needs. Or, call 1-866-749-7436 to speak with a licensed representative.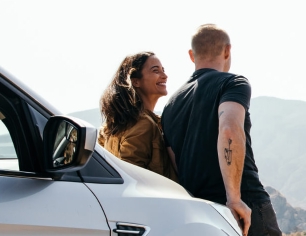 Quote car insurance online or give us a call