How to file an auto insurance claim
Car insurance is the rare product you purchase with the hope of never using, but if you're involved in an accident or your vehicle is damaged, it may be necessary to file a claim. An insurance claim is simply a request for financial compensation from an insurance company. Understanding how the auto insurance claims process works, including reporting an accident, working with an insurance adjuster, and getting your car repaired, if necessary, can make filing a claim more seamless and less stressful.
7 min to read
Steps for filing an auto insurance claim
Immediately after an auto accident, remember to stay calm, call the police, remain at the scene in a safe location, take photos, and exchange information with the other driver if possible. Car accidents can be traumatizing but filing a car insurance claim shouldn't be. Here's what you should do if you file a car insurance claim:
1. Contact your insurance company
Whether you file your car insurance claim over the phone, online, through a mobile app, or with an agent, your insurer will likely request the following details:
Location, date, and time of accident
Name, address, phone number, and insurance policy number for all involved in the accident
Weather conditions
Photo(s) of the damaged vehicle(s)
Copies of the police and/or accident reports, if applicable
2. Review your policy's coverages and deductibles
Knowing how you're covered is essential and can set proper expectations for your claim. For example, if you have rental car reimbursement coverage, you may be entitled to a rental vehicle while your car is being repaired. Your policy's car insurance deductible amount indicates how much you pay out of pocket on a covered claim, while your coverage limits represent the maximum dollar limit your insurer could pay out in a certain category.
Additionally, gap insurance can cover the difference, up to your policy's limits, if you owe more on the vehicle than it's worth.
3. Work with your insurance adjuster
Your insurance company will appoint an insurance adjuster, or multiple adjusters, to investigate your claim. Typically, the adjuster contacts you within one to three days of the claim filing. Your adjuster arranges an inspection, assesses the damage to your car, and/or addresses any personal injury claims. Additionally, an adjuster could analyze police reports and interview witnesses to the accident.
Depending on your insurer, you could be required to get an estimate for the cost of your vehicle's repairs, and the repair shop will share that figure with your insurance company. Your insurer then makes an evaluation based on information from your adjuster and the repair shop.
4. Repair or replace your car
You have the freedom to choose which shop handles your car's repairs. Assuming your claim has been approved, your insurer issues a payment to you or the repair shop, minus your deductible. If your car is totaled, it's considered to be damaged beyond repair. In this case, your insurer cuts you and/or your lender a check for the value of the vehicle, minus your deductible.
Frequently asked questions about the auto claims process
What happens if I'm at fault in a car accident?
Being the at-fault party in an auto accident can feel like a double-whammy. Not only are you responsible for the other driver's injuries and damaged property, but you may have damaged your own car as well. Your auto insurance policy is designed to protect you financially, and you'll want to follow the steps above when you're at fault in an accident. Don't depend on the other driver to notify your insurer; you should report the accident to your insurer or agent directly. If you're liable for injuries sustained in a covered accident, your insurer deals with the injured parties and potential lawsuit.
Learn more about the difference between at fault vs. no fault.
What should I do after a car accident that wasn't my fault?
If another driver crashes into your car, the process is similar to the steps listed above. You'll want to collect information from the at-fault driver, including their name, address, contact information, and insurance policy number. Don't expect the at-fault driver to contact their insurance company — it's up to you to report the accident to the other driver's insurer.
You may also inform your own insurance company about the accident in case you need to file a car insurance claim against your own policy because the at-fault driver was uninsured, underinsured, or their insurer denies liability. After paying your claim, your insurer may look to collect payment from the at-fault driver.
What happens in a "no-fault" accident?
If the other driver is at fault in an accident, the process for filing a car insurance claim varies by state.
In "fault" states, also known as "tort" states, the driver at fault in the accident bears the financial responsibility for the injuries and damages they cause. Keep in mind, while police officers sometimes determine fault, it can be a difficult and time-consuming task to prove to an insurance company that their insured driver caused the accident. If an insurer determines their driver is not responsible for your injuries and damages, your policy may cover you for related medical bills up to specified limits.
If you live in a "no-fault" state, as outlined by state law, your auto insurer pays for a portion of your medical bills (regardless of who was liable in the accident), including lost wages if you're unable to work because of injuries caused from the accident. In most cases, coverage for any vehicle damage is determined by who's at fault in the accident.
What should I do for a minor car accident with no damage?
Even a minor car accident could result in calling the police, exchanging information with the other driver, and notifying your insurance company (regardless of whether you intend to file an auto insurance claim). It's also a good idea to take photos of the vehicles and property involved — you may need documentation if the other driver files an insurance claim.
How long do you have to file a car insurance claim?
Deadlines for filing a claim vary by insurer, state, and type of claim. Every state provides you more than a reasonable amount of time, but you shouldn't delay in contacting your insurer.
How do I get a car repair estimate?
Your insurance company may offer multiple options for their representative to inspect your vehicle, including virtual or in-person visits at a shop, at your home, or another convenient location to determine the amount of damage. However, if repairable, you can also get estimates from any garage or repair shop you like. These estimates will help you understand what's involved to repair your vehicle and give you a general idea of how much the repairs will cost. Repair estimates may vary depending on several factors, including labor rates, parts, prices, and the amount of time necessary to perform certain repairs.
How long do I have to repair my car after an accident?
If your claim has been approved, and your insurer issues you a check, it's your decision on how to use the funds. While the payment was meant to compensate you for the expense of car repairs, you aren't mandated by your insurer to repair your vehicle. However, if you finance or lease your car, your lender may require the repairs to be made.
Who pays for my rental car after an accident?
If you weren't at fault in the accident, the at-fault driver's policy may pay for a rental car while your vehicle is being repaired. If you carry rental car reimbursement coverage on your own policy, you're covered for a rental car regardless of fault, up to your policy's limits. In either case, contact your adjuster to find out how you're covered.
Filing a car insurance claim with Progressive
Online
Log into your policy online and easily submit a claim.
File an auto insurance claim
Call a rep
Speak with a claims specialist who can help guide you through the process.
Call 1-800-776-4737
Use our app
Report your claim with Progressive's easy to use mobile app.
Download the app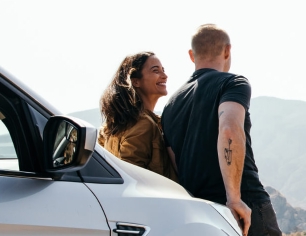 Quote car insurance online or give us a call