What's the difference between at-fault and no-fault accidents?
In most states, when an accident occurs one party is usually considered "at-fault" and must cover the injuries of the other driver and their passengers. In some states, known as "no-fault" states, medical bills are covered by each driver's individual personal injury protection (PIP) coverage instead of the at-fault driver's insurance.
3 min to read
What happens if you are at fault in a car accident?
When accidents occur in an at-fault state, the insurers of both parties review the details and make a judgment regarding which driver should be held responsible. Depending on the details of the accident, the process of determining who is or is not at fault in an accident can be straightforward or very complicated.
If the situation is clear-cut, or one party admits that they caused the accident, the at-fault driver's auto insurance should pay for any property damage and medical bills, and in some cases additional compensation for other damages, such as pain and suffering. However, often it's not clear who or what initiated the accident. In these cases, a claims adjuster gets involved to dig deeper into the cause of the accident.
How to tell who is at fault in a car accident
To determine who is at fault in an accident, claims adjusters usually talk to witnesses, look at police reports, and review the accounts of the accident from parties involved. Photos of vehicle or property damage can come into play, as well as a specific state's traffic laws.
If you're found responsible, your insurance will pay for the damage to the other driver's car, and any medical bills they incurred, up to the limits of the policy. Your insurance rate may go up as a result.
What happens in a no-fault accident?
Accidents are treated differently in no-fault states. If you're involved in a crash in one of these states, fault may not need to be determined for bodily injury claims. In these states, drivers must purchase car insurance with personal injury protection (PIP).
Who pays in a no-fault accident?
If there's an accident between two drivers, each party's PIP coverage typically pays for their respective medical bills and/or wage loss up to their policies' limits, no matter who caused the accident.
However, no-fault states may allow drivers who suffer severe injuries to sue the at-fault driver if certain conditions are met. Additionally, the at-fault driver's insurance typically pays for damage to the other driver's vehicle and property, just as they would in an at-fault state. This is why drivers in no-fault accident states are still required to carry liability coverage.
What happens if both sides are at fault in an accident?
Sometimes, depending on the individual state's laws, the insurers from both sides may determine that there is shared blame for the accident. In some cases, if both sides are somehow deemed at fault for an accident, the state's negligence law will determine the amount of damages awarded to each party for injury or property liability claims.
Pro tip:
Even if you're only in a minor fender-bender, it's generally a good idea to file a police report. Taking this step creates a record of valuable details about the incident, which puts you ahead of the game when filing an auto insurance claim.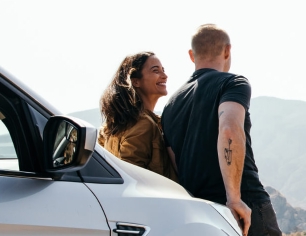 Quote car insurance online or give us a call