What are the car requirements for a driving test?
To take a driving test, you need a safe and fully functioning passenger vehicle. Your driving test instructor may inspect the vehicle before the test to make sure it meets their safety requirements, such as checking the brake lights and turn signals. If you don't own a car, you may be able to borrow or rent a vehicle for your driving test.
3 min to read
What type of car can I use for my driving test?
You need a passenger vehicle that is in good working order before you take a driving test at your local department or bureau of motor vehicles (DMV or BMV) location. While the exact equipment or features your instructor will check may vary, you should at least make sure the following components are working:
Brakes and brake lights
Windshield wipers
Seatbelts
Horn
Tires (sufficient pressure and tread)
Mirrors
Turning signal lights
Rearview mirrors
Speedometer
Some states also have other requirements, such as:
License plates on both front and back
Inspection sticker
Proof of registration and car insurance
Instructor access to an emergency brake
To find out the specific vehicle requirements in your state, visit your state's DMV website.
How do I take a driving test without owning a car?
If you don't have a car for a driving test, you have a few options to secure a vehicle. The simplest option is to borrow a car from a friend or family member. Depending on the state, the vehicle owner may need to be present to give permission to use their car. Some locations may not require the owner to be present if you can provide copies of the vehicle's registration and proof of insurance. Call your DMV or BMV location ahead of time for their exact rules.
Where can I rent a car for a driving test?
For those who can't borrow a vehicle, you may be able to rent a car for the day to take your driving test. Your best bet is to reach out to a nearby driving school. Many official training facilities will allow you to rent the vehicle that you used for driving lessons and even meet you at the testing location with the car. If the instructors and driving school are state-certified, you may be able to take your road test with your driving school instructor, though this option may vary by state.
You can also rent a car from a traditional rental car company, but if you have a learner's permit or an international driver's license, you may need a U.S. licensed driver to fill out the rental agreement for you. The licensed driver may also need to drive the rental car to the testing facility and accompany you while driving. Proof of insurance on the rental car may also be required. If a rental car is used for a driving test, it must go through the inspection process detailed above.
Many state DMVs don't allow rental vehicles to be used for a road test, so if you're going this route, call the location ahead of time and ask about their specific policies.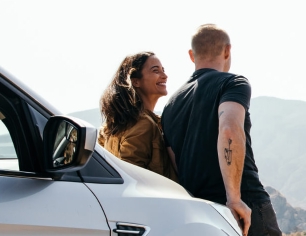 Quote car insurance online or give us a call