What are car subscription services?
Car subscriptions allow customers to drive new cars without committing to contracts or worrying about the everyday aspects of having a car. The subscription companies handle things like maintenance and insurance. They allow customers to subscribe on a month-to-month basis and give the option to change cars regularly. A monthly car subscription can be an excellent option for drivers who prioritize convenience, flexibility, and excitement.
3 min to read
How does a car subscription program work?
Sometimes referred to as long-term rentals, car subscriptions charge a monthly fee for unlimited access to different services. Subscription services take care of many everyday aspects of having a car, such as maintenance, insurance, and roadside assistance.
There are several car subscription programs to choose from that range from budget-friendly to luxury car subscriptions. Each one offers a range of vehicles from which to choose. You can find them offered through a variety of avenues, including: rental car companies like Hertz and SIXT, dealerships such as Volvo, Porsche, and Nissan and businesses like Flexdrive, Borrow, and Uber.
Car subscription service vs. leasing a car
The main appeal to what a car subscription offers is the added flexibility compared to a lease. You lock into a contract for one car that often lasts two or three years with a standard lease. A subscription service allows you to sign up for any length of time, starting for as little as one month. Many subscription services enable you to change out the vehicle monthly or more frequently if you'd like. You'll never get bored of a car since you can swap models regularly.
Car subscriptions are also different from rideshare or car-borrowing programs as you can keep the car at home for as long as your subscription is active. Learn about insurance for car leases and insurance coverages for rideshares.
Pros and cons of car subscription programs
There are pros and cons to using a car subscription service. Consider your lifestyle to determine whether a car subscription could be a good option for you.
Pros:
Convenience: All you need to worry about is making your monthly payments. Some services even go the extra mile to drop your new car directly to your house and pick it back up when you want to end your subscription or change cars.
Flexibility: Car subscriptions offer more flexibility than the standard lease. You can use the service for as little or long as you'd like.
Variety: Many subscription car services allow you to switch up the car you drive regularly.
Cons:
Higher price: The monthly cost for a subscription service generally costs more than what you'd pay for a lease on a similar car.
Location-specific: Most subscription programs are not nationwide yet. They're only available to customers located in certain cities or states.
Mileage restrictions: While some car subscription models allow for unlimited mileage, others put a cap on how far you can drive each month.
What happens to your insurance with a vehicle subscription?
Car subscription services supply customers with insurance. They'll always cover the state's minimum car insurance requirements but may offer extra protection as well. If you sign up for a monthly car subscription, there's no need to purchase a separate insurance policy, and if you already have a policy, you may consider canceling it. However, you may still want a different auto insurance policy if you'd like more coverage than what the subscription service is offering.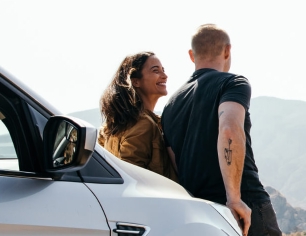 Quote car insurance online or give us a call