What are the requirements for insurance on a leased car?
Car leases are popular among those who like driving new vehicles but don't want the higher payments that typically come with financing a car. But whether you buy or lease, you need insurance coverage for your vehicle. Nearly all lessors will require comprehensive and collision coverage on a leased car, and some will require liability limits above your state's minimums.
3 min to read
What car lease insurance coverage will my leasing company require?
Leasing companies will typically require you to carry physical damage coverage for your leased vehicle, commonly known as comprehensive and collision coverage.
Many lessors will also require you to carry higher bodily injury liability limits, such as $100,000 per person and $300,000 per accident. You may also need a set amount of property damage liability coverage, such as $50,000.
Collision coverage: Auto collision coverage pays for damage caused in an accident with another vehicle or an object, such as a telephone or utility pole. This coverage applies even if you cause an accident.
Comprehensive coverage: Comprehensive car insurance pays for damages caused by events outside of your control, including weather, acts of nature, theft, vandalism, fire, and animal accidents.
What are the state requirements for insurance on a leased car?
The type and amount of car insurance required varies from state to state, but the state requirements for car insurance are the same whether you lease, finance, or own your car outright. The vast majority of states require some level of liability coverage, including:
Bodily injury liability: Covers medical expenses for others injured in an accident for which you are at fault. Minimum coverage per person and accident varies by state.
Property damage liability: Covers damage to another person's property in the event of an accident.
Some states require uninsured motorist coverage, medical payments coverage, or personal injury protection. These coverages can cover medical expenses for you and your passengers after an accident. Learn more about the difference between bodily injury vs. personal injury protection.
Is leased car insurance more expensive?
Since the insurance requirements for a leased car are typically greater, it can cost more to insure a leased vehicle than a financed or owned vehicle. However, leasing a vehicle may give you lower monthly payments than financing, so car payments and insurance rates are a trade-off. Your lessor might also require a specific deductible amount for comprehensive and collision coverage, which will influence your insurance rate.
How can I lower my lease insurance cost?
Even if your lessor has strict requirements regarding your insurance coverage, there are steps you can take to reduce your auto insurance rate. You can save by shopping around for car insurance to see which insurer can help lower your car insurance rate with car insurance discounts.
Also considering bundling policies. Many companies, like Progressive, offer discounts when you bundle your auto policy with your home or renters insurance. See how you can save by bundling insurance policies.
Is gap insurance needed for my leased vehicle?
Lessors may require gap insurance for a leased car since new vehicles depreciate quickly once driven off the dealer's lot. Note that Progressive offers loan/lease payoff coverage, which is similar to gap coverage. Learn more about gap insurance for a leased vehicle.
Online
Answer some easy questions and choose coverages.
Get a car insurance quote
Call us
A licensed representative will answer any questions you have.
Call 1-866-749-7436
Ask an agent
Need local advice? We'll connect you with a licensed independent agent near you.
Find an agent online
How to insure a leased car through Progressive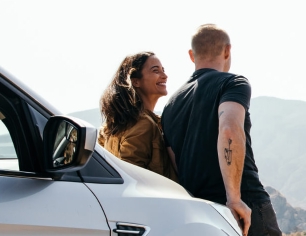 Quote car insurance online or give us a call