How does leasing a car work?
Leasing a car means signing a contract to use a vehicle for a set period under specific conditions. Leasing has similarities to a long-term rental but is more involved. It's important to know your credit score and be prepared to negotiate lease terms and to read the contract carefully and look out for expensive add-ons.
4 min to read
What is a car lease?
A car lease is a contract between you — the lessee — and the car owner — the lessor — to use a specific vehicle for a set period of time, under specific conditions. The lessor could be the automaker's financial division, a dealership, or a financial institution like a bank or credit union. Leases are comparable to long-term car rentals wherein the lease limits how you can use the vehicle, including annual mileage and normal wear and tear. Leases tend to last for two or three years on average, usually measured in months. Shorter leases last for about one year. Some leases can be as long as six years.
Terms vary by the leasing company, the lessee's finances, and the vehicle itself, but a lease typically requires monthly payments and finance charges. The agreement specifies what happens when the lease ends, including whether you'll have an option to buy the car at that point. Learn more about buying a leased car and the difference between a leased car and a rental.
How do I lease a car?
Start by shopping around. Just as you'd prepare to buy a car, research vehicle types and models to find the one that fits your budget and needs. Take test drives at dealerships, weigh the pros and cons of each car make and model, and ensure that your ideal vehicle can be leased – some new vehicles are only available for purchase.
Other things to keep in mind when leasing a car
Your credit score
Before you begin the lease application process, it's important to go into the process knowing your credit score. If you have good credit, you'll be more likely to qualify for a lease and have the leverage to negotiate favorable terms. Having poor credit doesn't necessarily mean you can't lease a car, but you may need a co-signer or pay a higher interest rate.
Total lease price
As you look around, ask prospective lessors for lease quotes that include the total out-of-pocket amount, including registration, taxes, and any down payment. Also, request quotes for the full monthly payment, including taxes. Read the terms closely to see where they differ and what they mean for the overall cost.
Down payment
Inquire about any down payment required for the vehicle you're interested in. Depending on your credit history, the lessor may waive it or ask that you pay a substantial amount upfront. Factor this into the total lease cost, not just your monthly payments. Making a large down payment on a lease may not be advantageous.
Terms and conditions
Be prepared for an intensive negotiation over terms. You can try to negotiate just about everything in the lease, including the purchase price, the down payment, the interest rate, the mileage limit, the trade-in value, fees, and charges. Residual value — the car's estimated worth when the lease term ends — probably won't be negotiable, though.
Additional fees
Ask about any add-ons and extra charges that may apply and what they mean. Review the entire contract closely before signing.
Pro tip:
Ask whether you have the option to make multiple refundable security deposits. Agreeing to make at least two deposits when the lease begins could lower your monthly payments significantly.
What documents do I need to lease a car?
The lessor typically requires a signed credit application with your name, contact information, and employment details. The leasing institution will also ask for your driver's license and proof of auto insurance. You may also need to provide additional documentation such as proof of residency, such as a recent utility bill, proof of income, and additional identification before the institution or company approves the lease. Learn more about the requirements for insuring a leased car.
How to lease a car online
Leasing a car through an online dealer or service involves the same initial steps as in-person leasing, but you complete the lease application process online. Look for a well-reviewed company. The lessor may ask you for a refundable deposit to start. Reputable online leasing companies offer a secure way to upload documents.
Once your paperwork is complete, you'll need to have the leased vehicle delivered to you. The dealer or service may handle this for you, but it could be worth researching car shipping companies that offer a better deal if that's an option. Learn more about buying a car online.
Get the right coverage for your leased car with Progressive
Current Progressive customers
You can log in or call 1-866-749-7436 to check on your coverages.
New Progressive customers
Quote auto insurance online or call 1-866-749-7436 to insure your car.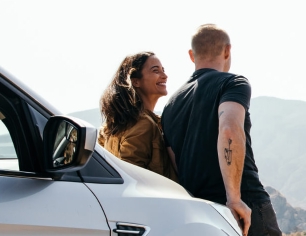 Quote car insurance online or give us a call