How does trading in a car work?
First, get an idea of what your vehicle is worth and how much you owe on it if you have an outstanding loan. Then, get quotes from dealers or online car-buying services to see how much value you can get for your trade-in. You can then apply your car's trade-in value toward the purchase of a new car.
6 min to read
How to trade in a car
Much of your experience with a trade-in is like selling a car privately. You'll need to gather information about the vehicle's current value, prepare the vehicle for sale, and negotiate a price with the dealer.
1. Get an estimate on your car's resale value
Start by researching your current vehicle's value by using an online pricing guide from well-regarded sources such as Edmunds® and Kelley Blue Book (KBB®). Once you have an estimated trade-in value, get quotes from local dealerships or online car shopping services like Progressive's Car Shopping service. If you are getting an appraisal from a dealership, bring a copy of the estimated trade-in value. Learn about your vehicle's depreciation over time and compare quotes as you get them to narrow down where you'll trade in your car.
Pro tip:
Consider getting an estimate from a trusted mechanic for any repairs your car needs. But before committing to paying for the repairs yourself, get a dealer's trade-in offer for your car and decide if you want to sell your car as is or get the repairs done first to raise its value.
2. Prepare your car for trade-in
You're almost ready to take your vehicle to the dealer. Use these tips for trading in a car to prepare:
Address mechanical issues. Your definition of maintenance may not be the same as your dealer's. Professionals can quickly spot problems that chip away at your trade-in value. If you've been skipping tune-ups or driving with minor defects, visit a mechanic before taking the car to the dealer.
Gather your documents. To streamline the trade-in process and increase your bargaining power, be prepared with all the necessary paperwork. You'll need your vehicle's registration, car title, any reputable and competitive quotes or estimates you've received, your loan standing, if applicable, and maintenance receipts.
Know your numbers. Trading in your car is a significant financial decision with moving parts, including the costs for getting it ready, the price you get for the vehicle, the cost of your new car, your current and future monthly car payments, financing options, special promotions, and more. Don't be afraid to break out a calculator and compare offers so you can get the best deal on your new car with your trade-in.
3. Negotiate an offer
Make an appointment with the dealer where you intend to buy your next car so they can appraise your trade-in you can negotiate an offer. Wait, if you can, until the end of the month, fiscal quarter, or end of the year, as these times are typically the best times to buy a car due to potential deals.
4. Close the deal
Remember, you can negotiate both the value of your trade-in and the cost of your new car. Try to talk to the salesperson about these two aspects of the deal separately. A good trade-in value isn't worth much if you pay too much for the new vehicle.
Pro tip:
Read all the documents carefully during the trade-in paperwork signing process to ensure no errors. Ask about anything you don't understand. Correcting any issues at this point takes less time than changing a signed contract later.
Get more specifics on the process of trading in for a used car, trading in a new car, or trading your car in for a lease.
What do you need to trade in your car?
Having the correct paperwork handy when trading in your car can help make this process go smoothly. Prevent making extra trips to track down the information by having these documents in hand for the trade-in vehicle:
Title and registration
Estimated trade-in value
Maintenance records and service
Keys, remotes, and the owner's manual
The loan account number, if you still have a loan on the trade-in vehicle
Your driver's license
Can I trade in my car without a title?
You will need the title to trade in a vehicle. If no loan remains on your trade-in, bring the vehicle's certificate of title to the dealership. Selling a vehicle without any proof that you own it is typically illegal. To replace a lost car title, contact your state's Department of Motor Vehicles or the location where you bought the car. You might need to pay a small title replacement fee.
How does trading in a financed car work?
If you're trading in your car with a loan, you'll first determine if your trade-in value is worth more or less than what you still owe on the loan. If it's worth more, you can use the trade-in value to pay off your loan and then use what's remaining toward your new car.
If the car is worth less than what you owe, you'll need to continue paying the loan after you trade in your car — you can put your trade-in amount toward your old loan, but it won't be enough to pay off the car completely. Or the dealer may help you roll what you still owe into your new auto loan.
Does trading in a car hurt my credit?
The trade-in process of assessing the value of your vehicle does not affect your credit because the dealer doesn't need to check your credit score to determine the price they'll offer for it. According to Experian, lenders make a hard inquiry into your credit report whenever you apply for new credit, such as a car loan. Too many hard inquiries in a short time can hurt your credit score. To limit the impact on your credit score, space out any actions that require hard credit checks (such as loan applications) by at least six months.
Is it worth it to trade in a car?
Trading in a car is often worth it if you want to save time and put your trade-in value directly toward purchasing another car. The main disadvantage of trading in a car is that a dealer is unlikely to give you the car's full value since they must sell it for a profit. In other words, you can often get more for a car by selling it privately, which takes more effort.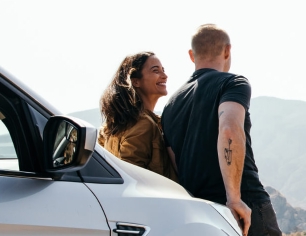 Quote car insurance online or give us a call