How to trade in a car
Trading in a car is relatively straightforward. First, get an idea of how much your vehicle is worth and how much you owe on it if you have an outstanding loan. Then, get quotes from dealers or online car buying services to see how much value you can get for your trade-in. Your trade-in's value can then be applied toward the purchase of a new car.
4 min to read
How does trading in a car work?
When you trade in your car rather than selling it, there are some trade-offs to keep in mind. The main disadvantage of a trade-in is that a dealer is unlikely to give you the car's full value since they need to sell it for a profit. On the other hand, trading in a car instead of selling it yourself saves time, since you won't need to advertise the car or meet with potential buyers. What's more, when you trade in your car, you can put its value toward the purchase of your next vehicle. Learn more about trading in for a used car and trading in a new car or trading your car in for a lease.
Much of what you'll experience with a trade-in is the same as a private party sale. You'll need to be informed about the vehicle's current value, prepare the vehicle for sale, and negotiate a price with the dealer.
Steps for trading in a car
Find out your car's worth
Get an estimated value from a neutral third party and consider getting an assessment of the vehicle from a trusted mechanic to see if anything needs work. By finding out the cost of any necessary repairs, you have an idea of how much they might detract from your car's current value.
Prepare your car for trade-in
Prepare the vehicle for sale by cleaning it up and performing any minor repairs that may impact the car's resale value. Also, make sure you disconnect any accounts and wipe any stored data for things like satellite radio, Bluetooth pairings, or identifying data like a home address. Collect anything you'll need to sell the car like the keys, title, registration, and information about any outstanding loan. Learn more about what you need to trade in your car.
Negotiate an offer
Make an appointment with the dealer where you intend to buy your next car and get your trade-in appraised. Wait, if you can, until the end of the month, fiscal quarter, or end of the year, as these times are typically the best opportunities to get deals.
Close the deal
Remember that the cost of your new car and the value of your trade-in are two separate things — and you can negotiate both. Try to talk to the salesperson about each aspect of the deal individually. A good trade-in value isn't worth much if you end up paying too much for the new vehicle.
Learn about more tips to trade in your car or consider selling or trading in your vehicle online through Progressive's Car Shopping Service, for greater convenience.
Should I get my car repaired before trade-in?
Keeping your vehicle in top shape can get you a better price. On the other hand, convenience is one of the big draws of trading in your car, and dealers typically have an on-site mechanic who can perform any necessary repairs. You may consider having the vehicle repaired before you trade it in if you have the time, but you have more flexibility on repairs when you trade in than with a private party sale.
Once your car is ready, you can start preparing to trade it in. If you own your car outright, the car's total value is yours. If you're still paying it off, you can expect to get the value of the car's equity — the difference between the car's value and what you still owe on the loan — as your trade-in value. If you owe more than the car is worth, you won't have any value to trade in, but you may be able to get the dealer to pay off your old loan and roll that amount into your new auto loan. Learn more about trading in your car with a loan.
Pro tip:
Assess your car's value using a neutral, third-party source like Kelley Blue Book (KBB®). Then, get an estimate for any repairs from a mechanic you trust. Before committing to the repairs, get the dealer's offer for your car and an assessment of the proposed repairs.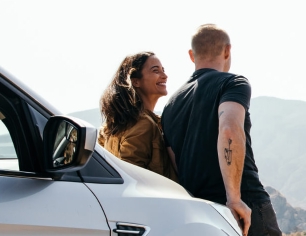 Quote car insurance online or give us a call