How to sell a car privately
Selling your car privately involves determining a fair asking price, preparing your car, and taking safety precautions when advertising, meeting, and dealing with potential buyers, and finalizing the transaction. Provide only the information necessary for selling the car, tell a buddy about your test drive plans, request payment via wire transfer, and follow your Department of Motor Vehicle's guidance on releasing liability and transferring ownership.
9 min to read
Tips for selling a car privately
You're likely to get the best price for your car when you sell it yourself compared to trading in a car. Follow these steps to sell your car to a private party:
Determine a fair asking price
When selling a car privately, use an online valuation tool from a reputable source such as Kelley Blue Book, Edmunds, or Progressive's trade or sell cars online tool to estimate your vehicle's worth. Enter a realistic condition for the vehicle. These tools produce a price range with lower dealer trade-in amounts and higher private sales. Use these as a guide for setting a fair asking price.
Beyond the car's make, model, and mileage, factors influencing your asking price include having a transferable warranty, maintenance and upkeep, and the vehicle's overall appearance.
Prepare your vehicle for sale
Thoroughly wash and vacuum the car before selling your car privately. Consider having it detailed. Make sure the glass is clean inside and out. Dust and air out the interior. Shining the wheels can help your advertisement photos stand out. While cleaning, check carefully for any small cosmetic repairs.
Remove all personal items, including bumper stickers. Check the glove compartment and other storage spots for belongings. Remove any personal information stored in the car's electronic systems, and unpair your phone from the vehicle's Bluetooth connection.
Take pictures of the vehicle from several angles in good light. If there are defects on the exterior, take photos of them so prospective buyers are aware of them. Pictures sell, so if you list the car online it's vital to have good pictures that appeal to prospective buyers.
Pro tip:
You can increase your selling price by completing cosmetic repairs, such as fixing scratches or replacing a cracked windshield, but experts caution against costly repairs. Instead, get repair estimates and have the information ready for negotiations with a prospective buyer.
Get the paperwork ready
The paperwork you'll need to sell your car privately can vary depending on the state where it's registered and the vehicle's condition. Generally, you'll want to gather specific documentation beforehand.
Check the motor vehicle history report, even if prospective buyers obtain copies, so that you can talk about any issues listed. Have maintenance and repair records to support your asking price. Federal law requires disclosing the mileage from the car title or a disclosure form through the Department of Motor Vehicles (DMV). Gather the documentation if you still have a warranty from the manufacturer or a third party that you could transfer to a buyer. If there's no warranty, state in the ad that you're selling the car "as-is" to avoid confusion.
Find potential car buyers safely
After you've prepared your car for sale, there are several ways to sell your car safely and find potential buyers, each with its security considerations:
Word of mouth: Find out if friends or family want to buy a car. If you can find a buyer you already know, you may feel safer throughout the process. On the other hand, it might be uncomfortable to ask family or close friends for the financial guarantees you'd ask of a stranger. Don't enter into a financial agreement you're uncomfortable with, no matter how close you are to the other party.
Online: If you're considering the popular method of selling your car online, be wary of potential scams. Don't advertise unnecessary personal information. Avoid buyers who want to send you money electronically or have someone else pick up the car, especially if they don't want to test drive it first.
Newspaper classifieds: Newspaper advertising can feel less anonymous since you may reach a more local audience. You're still dealing with strangers, so be careful when meeting in person.
Physical advertising: This includes putting up flyers in your school or office and placing a "for sale" sign in the car window. These methods may limit your audience to people in your general community. However, you'll need to include some personal contact information in the ad.
Contact your potential buyers
Some online classifieds have a built-in forwarding service that doesn't disclose your email address. If you won't be communicating through an online selling tool, consider creating an email address just for the sale. This allows you to avoid broadcasting your personal contact information and keeps messages about the sale in one easy-to-find place.
Pro tip:
Avoid giving out personal information like your home or work address, details about your schedule, or information that is irrelevant to the car sale.
Meet for test drives
To provide a safe test drive opportunity, meet in a public place where other people will be present, like a shopping mall parking lot during the day. Propose specific days and times for the meeting without disclosing unnecessary information about your habits and movements. Before you meet for the test drive, tell a friend where you'll be and how long you expect it to take. Bring a buddy. You can further protect yourself by bringing only the essentials: your license, proof of insurance, car key, and your phone. Learn more about how to test drive a car before buying it.
When you meet, get a copy of the buyer's information, including their proof of insurance. Before you get in the car, agree on the route for the test drive. Ideally, it should include streets and the highway to give the buyer a fair impression of the car. An agreed-upon route establishes a time frame for your return so your buddy can check in.
Protect your finances
Here are some tips on how to protect yourself when selling a car privately. On top of protecting your physical safety, consider taking these financial and legal safety precautions when selling your car:
Ask for the driver's proof of insurance. While your insurance may provide some coverage if a buyer gets into an accident during the test drive, the buyer should show that they have a minimum of liability coverage in case they cause an accident.
Get everything in writing. After the test drive, once you agree on the terms of the sale, document everything in writing: the vehicle's details, when the buyer will pay, how much, when you'll transfer the title, and any particulars (similar to the documents for signing at a car dealership). If they don't want to get things in writing via a bill of sale or car sale agreement, walk away.
Wait for the money to come in. Never transfer ownership of a car until you have the money in hand. Request a secure form of payment like a cashier's check rather than cash or a personal check, which might bounce. If you're taking payment electronically, wait until the money is in your account to transfer the car title.
Keep your car insured while it's yours. Don't cancel your insurance policy until it's titled and registered under the new buyer's name. Anything that happens before that is your responsibility, and you generally need insurance as long as the car is registered to you. Learn more about when to cancel insurance after selling a car, and what to do after selling a car.
Complete the paperwork. Procedures for selling a car privately vary by state, so check with your BMV or DMV. The new buyer may need the title you've legally signed over to them along with a copy of the signed bill of sale and odometer disclosure statement. You can suggest that you go with the buyer to the BMV or DMV to ensure they finalize the paperwork.
What is the safest payment method when selling a car?
The safest payment method for private car sales is usually a direct bank transfer (wire transfer), which requires the buyer to transfer funds from their bank account to yours. Once your bank has confirmed that the funds have cleared, you can transfer vehicle ownership. Bank wire transfers are traceable, which reduces the risk of fraud.
How to negotiate the best price when selling your car privately
Coming into the negotiation well-prepared can help you obtain a fair price for your car since you'll know how to counter low bids. Let the buyer make the first offer. Have the estimates you used to price the car handy. If the prospective buyer won't make you a fair offer, it's OK to say no and move on. They may be more willing to negotiate if you mention that other parties are interested. Learn more about negotiating used car price.
Complete any DMV paperwork to transfer the car title to the buyer. You may need to fill out a release of liability form so no one holds you responsible if the buyer gets into an accident immediately. Contact your auto insurance company about updating your policy.
How to safely sell a car
If you take smart precautions, there is a safe way to sell a car. Use these tips as you prepare to safely sell your vehicle to a private party:
Screen potential buyers: Speak with potential buyers before you agree to meet them in person. Avoid sharing any more personal information than is necessary.

Meet in a safe location: Meet potential buyers in a well-lit, public place that has parking lot cameras, like your local police station's parking lot, a bank parking lot, or a busy mall.

Verify the buyer's identity: Before finalizing the deal, ask for the buyer's full name, contact information and a valid driver's license

Be skeptical of overpayment: If a buyer offers more than the asking price and then wants a refund for the difference, they're likely a fraudulent buyer.

Use a secure payment method: Agree on the payment method before meeting with the buyer in person. If they insist on paying in cash, complete the transaction at your local bank where you can verify the authenticity of the funds.
Remember, safety is your first concern. Trust your instincts and move cautiously when privately selling your car. If something doesn't feel right to you, it's always OK to walk away from the deal.
Update your coverage with Progressive after selling a car
Current Progressive customers
You can log in or call 1-866-749-7436 to adjust your coverages.
New Progressive customers
Quote auto insurance online or call 1-866-749-7436 to insure your car.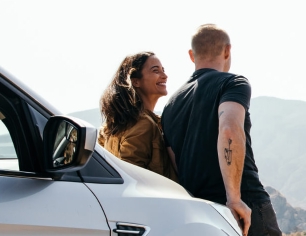 Quote car insurance online or give us a call